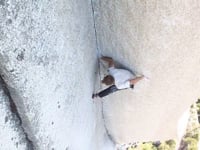 [vimeo http://vimeo.com/19544985 w=980&h=551]
| Video Source | ClimbingNarc Video Page
Do you remember your first, 5.9? 5.11? 5.13? Last summer I captured my friends first 5.13 on video.

The EPIC Shadow pitch of the Stawamus Chief is one of the most dramatic rock features on the planet.

Located in Squamish BC, the Shadow has an honest reputation for being intimidating. Rated 5.13 it can be described as a single hand to finger sized crack which is tucked into a steep dihedral extending for over 150 feet into the summer sky. The Shadow was cemented into North American Climbing history when legendary stone master Peter Croft first freed the route in 1988, onsight. Since then it's only been repeated a handful of times.

In this video big bad rad Jesse Huey from Seattle/Boulder battles up the double overhanging corners using grit, tenacity and imagination. His first attempt took 40 minutes before slipping off near the top. His successful burn, 3 hours later, with a pair of lucky shoes, took 45.

Join Jesse on his journey to the chains, from arm barring chimneys and finger-tip laybacks, to pure friction stemming, Jesse uses everything he has. Be sure to take notice of the massive rack on his harness during the opening scene, and also keep an eye open for his palm sweating catch at 6:50, and for the fall at 7:20.

On his second burn, as he nears the anchor at 9:40 watch for the tiny nut that falls out before he clips the ancient and suspect pin (yikes), and of course, enjoy his moment in the sun when he realizes his first 5.13 EVER, is non other than the World Class "Shadow" pitch of the University Wall.
Related Videos
Posted In:
Traditional Climbing
Areas:
Squamish