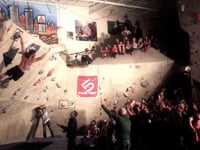 [vimeo http://vimeo.com/31764114 w=980&h=551]
| Video Source | ClimbingNarc Video Page
November 5th, 2011 Metro Rock in Newburyport, Massachusetts, hosted the 1st Dark Horse competition of the 2011 series. Louder Than 11 was on hand to deliver highlights from the event. Enjoy!

http://darkhorseseries.com/

Schedule:
November 5th, 2011
December 3rd, 2011
February 4th, 2012 (Championship Round)

Are you the next DARK HORSE?
Related Videos
Posted In:
Bouldering
,
Dark Horse Series
Climbers:
Andy Lamb
,
Augi Cohn
,
Katie Lamb
,
Melissa Godowski
,
Nadya Vorotnikova
,
Rob D'Anastasio