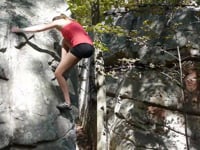 [vimeo http://vimeo.com/31548350 w=980&h=551]
| Video Source | ClimbingNarc Video Page
A short one from the 2011 Stone Fort leg of the Triple Crown Bouldering Series. Highlights include bouldering and post-comp party on the 18th hole; Jimmy Webb's first ascent of Palm Beach; sketchy belly flop top-outs; Baby Ella crushing two slab lines; and more.

Thanks to Triple Crown for supporting climbing access in the southeast, and for opening up the 18th hole boulders at Stone Fort. Montlake Golf Club also deserves a huge thanks for allowing climbers to enjoy these incredible boulders.

Also, this video would not have happened without Far From Home Productions' generous technical assistance.
Related Videos
Posted In:
Bouldering
,
Triple Crown Bouldering
Areas:
Little Rock City
,
Stone Fort