What an unbelievable night it was last night at Sender One as Brad Weaver and Delaney Miller captured their respective Sport Climbing National Championships.  Weaver, who qualified for finals in 7th, came out and was the only male to finish the tough finals route, and he did so in spectacular fashion with a one arm drive by stick of the last hold.  Miller, who qualified for finals in 1st position, topped the women's final along with Sasha DiGiulian and Claire Buhrfiend, but it was Miller's stronger performance in qualifiers that gave her a 2nd consecutive national title.
2014 SCS Nationals Men's Podium – Rob D'Anastasio (3rd), Brad Weaver (1st), Noah Ridge (2nd)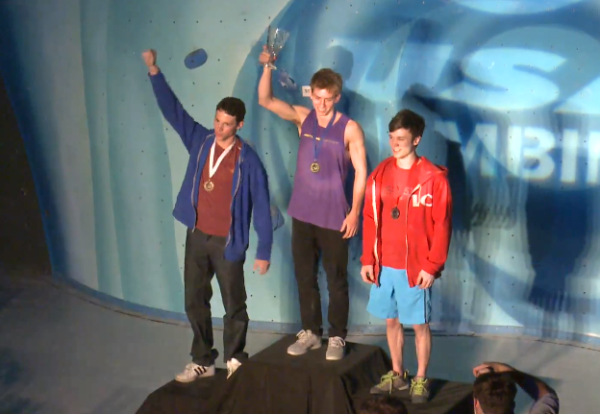 2014 SCS Nationals Women's Podium – Claire Buhrfiend (3rd), Delaney Miller (1st), Sasha DiGiulian (2nd)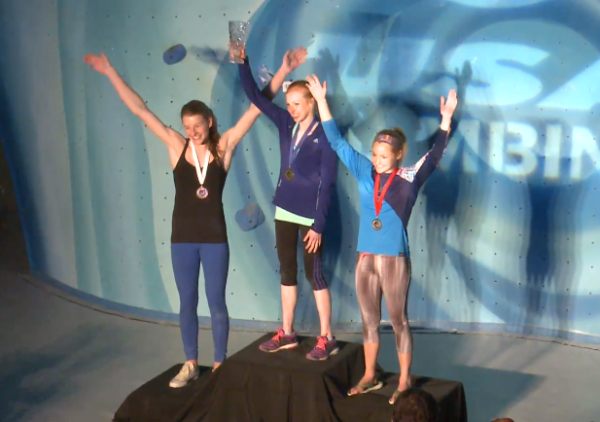 You can watch full replays of Qualifiers and Finals if you missed any of the action.  Thanks to everyone who tuned in throughout the weekend!
2014 SCS Nationals – Sender One – Santa Ana, CA
Men's Final Results
Women's Final Results

Brad Weaver
Noah Ridge
Rob D'Anastasio
Carlo Traversi
Matty Hong
Jon Cardwell
Daniel Woods
Vasya Vorotnikov

Delaney Miller
Sasha DiGiulian
Claire Buhrfeind
Chelsea Rude
Grace McKeehan
Kyra Condie
Michaela Kiersch
Jacquelyn Wu
Angie Payne
Margo Hayes
Meagan Martin