It's been a busy few months on the boulders of Ticino, Switzerland and it's been equally busy for me not on the boulders of Ticino, Switzerland which has put me a bit behind on posting news about a busy few months on the boulders of Ticino, Switzerland.  Let's play some catch-up, shall we?
Last time we checked in with Carlo Taversi he had just repeated Sharma's Practice Of The Wild (V15), but he was far from finished.  Traversi also repeated Daniel Woods' Mystic Stylez suggesting a downgrade to V14 and he did the FA of a stunning line called Heritage at a suggested grade of V14.  Commenting on his 8a scorecard he had this to say about the problem:
You've had dreams about this problem without ever seeing it. It's that good.
Check out his recap posts for many more pictures of the amazing climbing in Switzerland.
Carlo Traversi on Heritage (V14) from his blog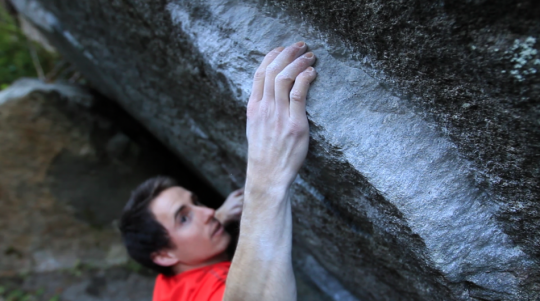 Nalle Hukkataival also had a productive trip to Switzerland, nabbing the FA on a couple of noteworthy lines.
The first to go down was a problem he dubbed Momentum in Valle Bavona which he describes as:
a tall overhang with explosive and powerful moves and very few footholds. It has one of the most amazing sequences I can think of! So simple, yet so intricate. The boulder itself is so big that getting back down can be tricky.
Hukkataival suggested V15 for the problem, but as is often the case these days, grading FAs are a tricky business.
After finishing Momentum, Hukkataival turned his attention to likely the most famous project in Switzerland:  the wagon project.  Made famous in Dosage 4 by having the hands of Chris Sharma touch it, this problem revolves around a brutally difficult, short sequence that seems to involve a mandatory campus rose move.  Hukkataival was able to piece this short problem together calling it Off The Wagon and suggesting a grade of V15 for this one as well.
In the repeat department, Hukkataival made quick work of Traversi's new problem Heritage confirming both its difficulty and its quality, and in addition he repeated Dave Graham's From Dirt Grows The Flowers (V15) via the original, straight up method.
Nalle Hukkataival repeating From Dirt Grows The Flowers from his blog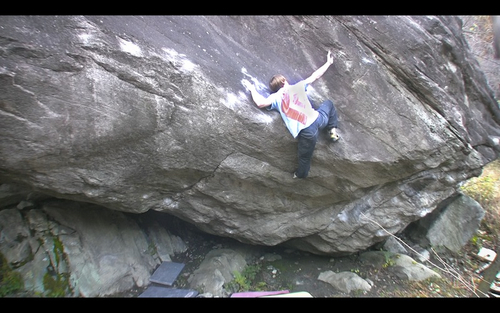 Last we checked in with Dai Koyamada he had just finished the left variation to From Dirt Grows Flowers, and as expected he was not done sending either.  Koyamada did the second ascent of Martin Keller's Der mit dem Fels tanzt (V15) at Chironico, repeated Fred Nicole's Sur le fil (V14) at Wassen and he did the FA of Insanity Of Grandeur (V15) which adds a low start to the V13 Delusions Of Grandeur.
Batting cleanup after all this was Germany's Jan Hojer.  Hojer ripped through Switzerland much like he did through Rocklands this past summer.  He made quick work of both of Hukkataival's hardest new additions, suggesting downgrades to V14 for both Off The Wagon and Momentum.  You can see footage of him flashing a couple other problems and repeating Off The Wagon by click the picture below.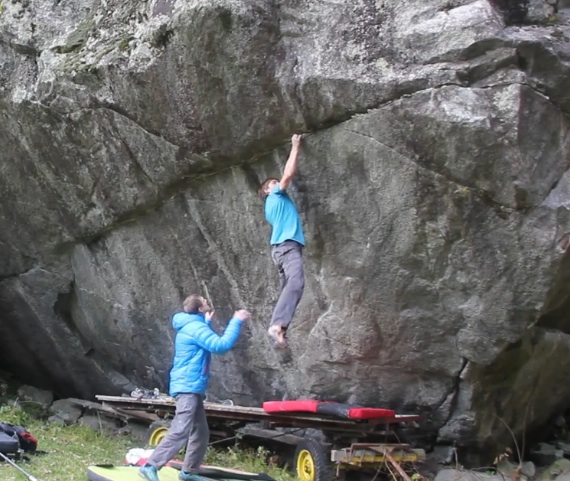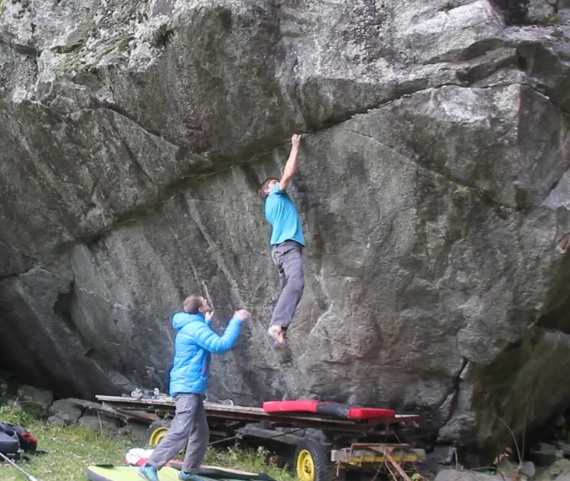 And finally, just the other day in Cresciano, Slovenia's Jernej Kruder did the 4th ascent of Dave Graham's The Story Of Two Worlds (V15).