Adam Ondra has been slowly ramping up his efforts down in the Red River Gorge with a few onsights of "easier" routes like Omaha Beach (5.14a) and Transworld Depravity (5.14a), but today he turned his sights to something a little bit harder: Adam Taylor's heretofore unrepeated route Southern Smoke Direct (proposed 5.15a).
Southern Smoke Direct is, as it sounds, the most direct line up a section of wall at Bob Marley that tackles a difficult boulder problem right off the ground before heading into Southern Smoke (5.14c), a line that is more a matter of resistance climbing than anything else.
Old Joe Kinder photo showing Southern Smoke Direct as the dotted line that leads into "New Joint"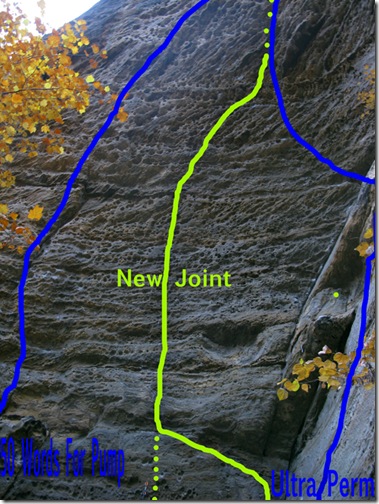 I was in Kentucky myself this past weekend and one of the topics of conversation when I wasn't busy repeatedly failing on everyone's warmup at the Motherlode was what Adam Ondra would try when visiting the Red, and trying to flash Southern Smoke Direct was something we all agreed actually seemed quite possible. Provided he could get some good beta for the boulder problem and it wasn't absurdly difficult, it seemed likely that he could finish the route if he could pull off the boulder problem. If ever a hard 5.14/easy 5.15 were flashable, this route was a perfect candidate. And if the boulder problem didn't work out for the direct, he could always still try flashing Southern Smoke.
As it turns out, this latter scenario didn't come into play.
He flashed the whole rig. Southern Smoke Direct.
DPM is on the scene as usual these days with a report that has details from Daniel Woods and Jon Cardwell who were both witness. A comment on that post indicates that an easier sequence was found for the bottom boulder problem so it seems unlikely that Ondra will confirm a 5.15a grade for this route, especially when you take into account how Brave & Humble™ he is. We await his scorecard update with baited breath…
Update –  Here's what he had to say on the scorecard, registering it at 5.14d:
Hard to believe it, but it is true! two dazs ago felt bad, didn't know what to climb as I wanted to save onsights/flashes for another year, and now this came! thanks everyone for the beta and good vibes, moment I will never forget. Everything went so perfect. 9a benchmark I'd say.
Other notable scorecard updates include onsights of The Nothing (5.14a) and Omaha Beach (suggests 5.13d), repeats of Fifty Words For Pump (suggest 5.14b) and Lucifer (5.14c), and the FA of an old project at the Motherlode left of Take That, Katie Brown that is likely 5.14c.
Update #2 –  PlanetMountain has a few more words from Ondra:
There were such good vibes from them as they encouraged me and so I just kept climbing. Towards the end I simply ignored the lactic acid, the fight got tougher and tougher, but I didn't let go…
Update #3 – Ondra has written this update for sponsor Entre Prises:
Life's great. Sometimes you are unlucky, some days you seem to get luck from nowhere. Today it was definitely like this. Thanks everyone for the good vibes and beta, it was a very memorable experience!
Update #4 – Daniel Woods in comments to 8a.nu:
He climbed with confidence and did not hesitate on any moves. This was the most inspirational moment that I have witnessed in climbing.