Everybody who is anybody has been down in South Africa this summer…or so it seems.  Here's a recap of what's been going down over the past few months.
A rotating crew of Americans have been developing boulders outside Cape Town with notable sends including Carlo Traversi's second ascent of Paul Robinson's Mirta (V14) and young Ashima Shiraishi's repeat of Robinson's Steady Plums Direct, a proposed V13, and flash of a V11 called Black Demon (V11).
Ashima Shiraishi repeating Steady Plums Direct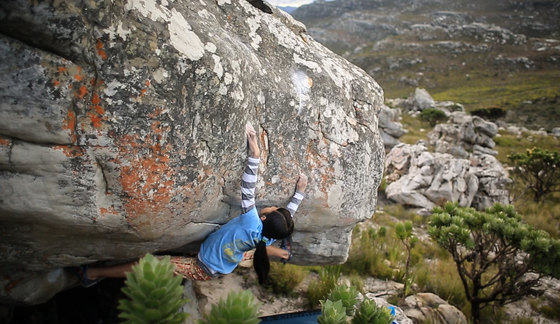 It's worth noting that the latter problem and several other problems established by this crew this season and last are at an area called Red Hill which is currently closed to climbing.  The so-called Chasing Winter crew has yet to really address this issue other than in emails to 8a.nu after the closure was raised by commenters on that site, but I think it's incumbent on them to address the situation publicly sooner rather than later.  Unless there is some unkown arrangement or the closure situation is not what it appears, I think it is also incumbent on them to stop climbing at Red Hill and refrain from using any footage of climbs they have done there in their forthcoming movie.
Up in Rocklands it has been a season of repeats at the high end of things with Dave Graham, Daniel Woods, Nalle Hukkataival, Robinson and others all notching hard repeats1.
Woods nabbed the fourth ascent of Fred Nicole's Monkey Wedding (V15) as pictured below:
After not seeing a repeat for over 10 years, Fred Nicole's Oliphant's Dawn (V14) has seen repeats by Hukkataival, Markel Mendieta, Woods and Robinson.  The problem had been tried unsuccessfully by Adam Ondra last year, but clearly the secret has been unlocked.  Hukkataival had this to say about the problem on his 27 Crags ticklist:
The ultimate finger-strength test. Managed to pull it off in one session with good conditions. Harder than any V14 in Rocklands or most other places. Whatever grade that makes it is not important to me. Big respect to Fred for opening such a legendary climb.
Another pair of popular problems have been Golden Shadow (V14) and King Of Limbs (V14) which have both been repeated by Woods, Graham, Hukkatiaval, Robinson and Jan Hojer.
Dave Graham on Golden Shadow – Click picture for video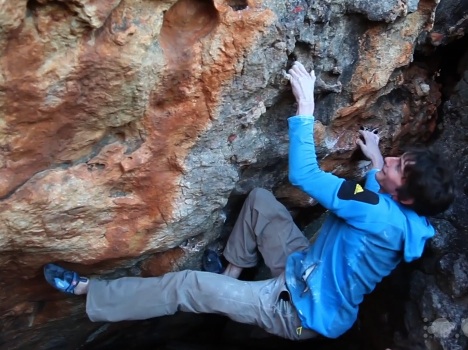 If the previously mentioned V14s weren't enough evidence that German Jan Hojer had a good trip to South Africa, his 8a scorecard reveals an additional V14, seven V13s including the dyno Air Star and nine V12s including four that were flashed.  Due to the subjective nature of how our sport is measured records can't and don't exist in climbing, but if they did this two weeks of climbing would rank pretty high.
Still of Jan Hojer sending Sky (V14) from this video of his highly productive trip to Rocklands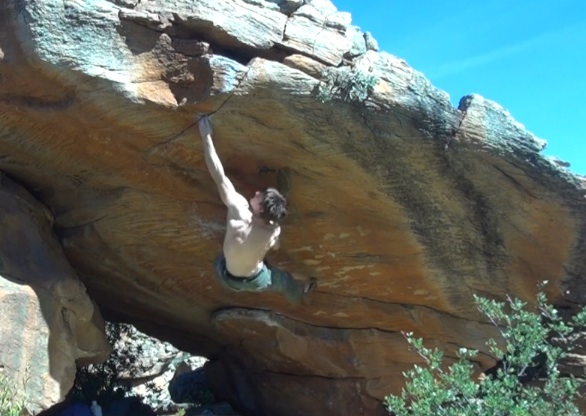 And finally, Dave Graham has been eating up classic Rocklands lines on his first visit to the continent.  In addition to the aforementioned two V14s, he's also done Sky (V14), Amandla (V14) and Derailed (V14) with several V13s and V12s also filling out the 8a scorecard.  As you might expect he's pretty psyched, and this trip has offered a good opportunity for him to add some content to the new Island website.  In addition this long introductory blog-type entry, you'll find footage of Graham climbing each of these problems at the following links:
It's also worth noting that both Woods and Robinson have returned to logging their ascents on 8a.nu after a lengthy hiatus in favor of 27 Crags ↩