One of my favorite climbing-related activities has always been reading guidebooks.  I really enjoy learning about the different areas that are out there, and since visiting them all isn't an option perusing the guidebook seems like the next best thing at times.
One of the trends in guidebooks over the past few years has been an exponential increase in quality both in terms of content and in terms of the paper they are printed on.  While the hand drawn topo will always have a special place within the community the move towards high quality, color guidebooks is a big plus to me.
Now, I've read a lot of guidebooks over the years, but when Tom Moulin sent me a copy of his Southern Nevada Bouldering guidebook last month I was pretty blown away.  Moulin started with the template of a guidebook with color photos, good maps and clear descriptions and took it to the next level.  At over 400 pages the book features an incredibly in-depth history section that covers not only climbing history but geological and native history as well.  Covering over 2,000 problems in several different areas across southern Nevada like Red Rocks and Mt. Charleston, the book includes detailed maps and bouler topos along with tons of great action shots, many of them taken during a given problem's actual first ascent.  In addition, Moulin has written up several handy circuits of high quality problems based on the length of your stay and the difficulty you are looking to climb which I imagine would be quite handy.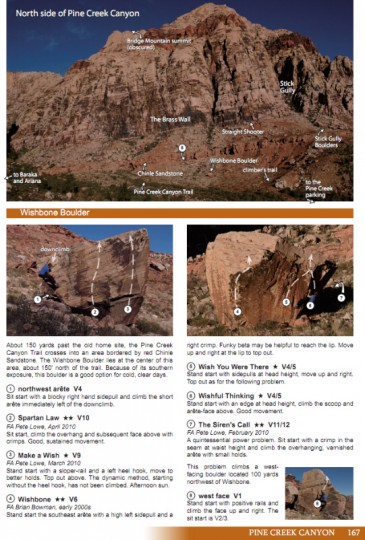 All this content does come at a cost, as the book will set you back around $40 and its 400 pages make me a little pumped just holding the thing open.  With that said, if you are looking for a book that will help you make the most out of the bouldering in southern Nevada I wouldn't hesitate to pick this thing up.
If you've already got the book, or are looking for general updates on new problems in the area, the publisher has setup a forum where additions to the guidebook are being posted.