Paul Robinson's strong season of bouldering in the Swiss canton of Ticino continues, this time with the likely 5th 6th ascent (in some form) of Dave Graham's From Dirt Grows The Flowers (V15) at Chironico.  From Dirt Grows The Flowers climbs out a roof using a difficult undercling move to a lip where one can either mantle straight away as Graham did on his FA or traverse left along the lip of the boulder before topping out.  The section climbing out the roof is thought to be in the V13 range with both topout options being roughly V12.  Robinson went for the latter topout method, falling several times there before sending according to this post on 27Crags.
Paul Robinson sending a variation of From Dirt Grows The Flowers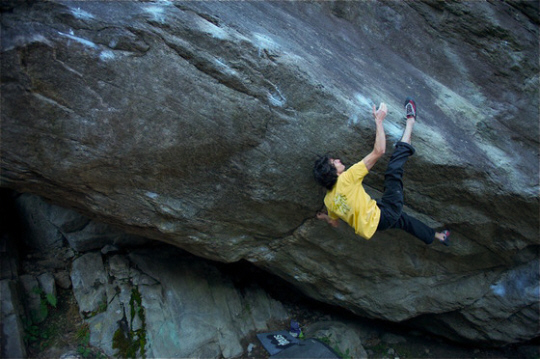 Here's some video from Bernd Zangerl's 2nd ascent of the problem to give you an idea what the problem looks like and how the traditional topout goes: Robinson's time in Switzerland is drawing to a close with a move to France's Fontainebleau coming up very quickly.  Before then he hopes to finish another of Dave Graham's V15s, The Story Of Two Worlds, but if not Robinson's return trip to Switzerland has been quite the success.  In addition to doing From Dirt Grows The Flowers and the FA of Ill Trill, a proposed V15 in Magic Wood, Robinson has completed somewhere in the range of  7 V14 boulder problems in the past 3 months according to his 8a scorecard.