It was so much fun the first two years that I'm doing it again.  It's time to give away an Access Fund Holiday Pack!  But first a word about the Access Fund:
If you're not a member of this organization what are you waiting for???  They are working each and every day to help keep YOUR crags open for business!  Join or renew your membership TODAY.
Ok, with that out of the way let's talk about how you win stuff.  The rules for entry are, as always, quite simple.  This time there are 2 ways to enter:
Become a fan of ClimbingNarc.com on Facebook and post a message on the wall post announcing this contest
Leave a comment on this post
That's it.  Pretty simple, right?  You can enter either way you'd like or do both to double your chances of winning.  Entries will be accepted through at least Friday, December 3rd see below.  I'll promise at least one prize pack although my generosity is likely to increase if you can help get ClimbingNarc.com over the 2,000 fan mark on Facebook.  Don't be afraid to hit the "Suggest to Friends" button and let your friends know they too could be winning free stuff.
Here's the SUPER prize pack (valued at over $180) you could win:
1-year Access Fund Membership to help keep your crags open
J-Tree design of Access Fund's organic cotton T-shirt from prAna
Metolius Climber's Hand Repair Balm
Osprey Pack Repair Kit to make emergency fixes to your favorite pack
The North Face logo beanie, co-branded with AF logo
Omega Pacific biner engraved with "Access Fund"
Petzl mug, co-branded with AF logo
Half-pound of your favorite Higher Ground Roasters' Access Fund Brew
Favorite seasonal flavored CLIF Bars (think gingerbread and pumpkin spice)
Newly released Falcon Guides title Maximum Climbing: Mental Training for Peak Performance and Optimal Experience
Black Diamond Shot Pack, a classically simple, compact climbing backpack
Omega Pacific locking biner engraved with "Access Fund"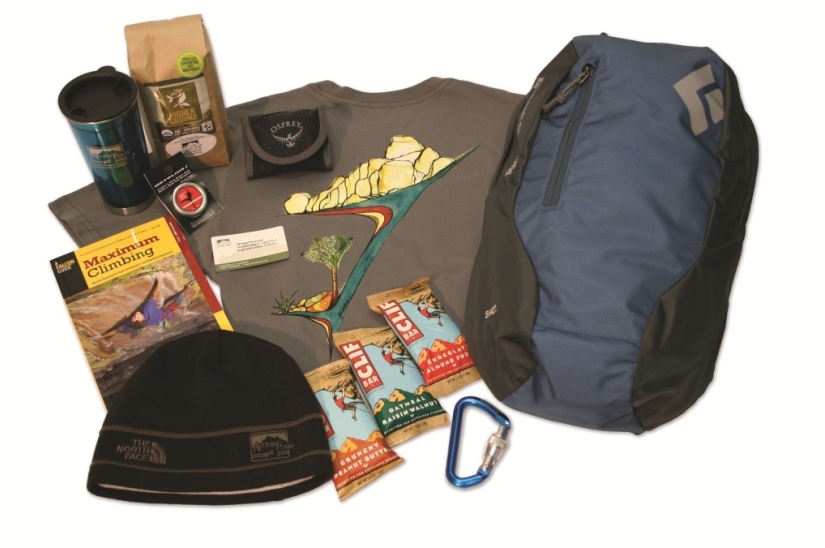 Thanks to everyone who takes the time to visit this site and best of luck in the contest!
Update 11/29/2010: Due to supply constraints it looks like the Super Prize packs have already sold out for the year.  If that is indeed the case then I will have to substitute for the regular prize pack and offer my apologies.  With this in mind I'm going to close this contest a bit earlier than planned.  The new deadline for entry is the end of the day tomorrow, 11/30.