"When one of the funniest and most outrageous things imaginable happens to you and is caught on film, I reckon it's your duty to share it with the world."
That's how Jason Kruk introduced the now infamous video of his bad day of off-width climbing that spread around the internet like wildfire back in August.  At the end of his post he lamented how it was funny that "I'm trying hard at this pro-climber thing, trying to sell something, but no one cares about the routes I climb".
Well, I care.
So I caught up with Kruk a few weeks back to find out more about his climbing that has taken him all over the world from Patagonia to Yosemite to the Bugaboos of his native Canada.
Tell us a little bit about your background.  How did you get into climbing?
buy xenical online https://onlinebuynoprescriptionrx.com/dir/xenical.html no prescription


I got into climbing through the summer camp at the climbing gym in North Vancouver when I was 9 or 10 years old. It was different, none of my friends were into it, that's why I dug it at first. I probably would have quit, the plastic only holding my attention for a couple years, but was saved by the rack of climbing magazines they sold there. I associated strongly with the culture and the literature I read.
buy clomiphene online https://onlinebuynoprescriptionrx.com/dir/clomiphene.html no prescription

I remember seeing a photo of the Torre group and telling my stepfather that climbing in Patagonia looked 'cool'.
It looks like you've done your fair share of big climbs from free climbing on El Cap to climbing in Patagonia.  Is there one climb that stands out in your mind as being more memorable for whatever reason?
My first trip to Patagonia in 2008, my partner Will Stanhope and I got in over our heads on a new route on Aguja Poincenot. We definitely overextended ourselves on that one in terms of risk acceptance. The multiple open 'shiver' bivies were quite memorable! More recently, I had the pleasure of climbing with one of my heroes, Jon Walsh, from Golden, BC. Mt. Robson's Emperor Face was one of those legendary alpine faces I had read about as a kid. The climbing was continuously technical and highly enjoyable and the momentum and energy while climbing with Jon is always high.
Jason Kruk and Hayden Kennedy on the summit of Cerro Fitzroy after climbing the Supercanaleta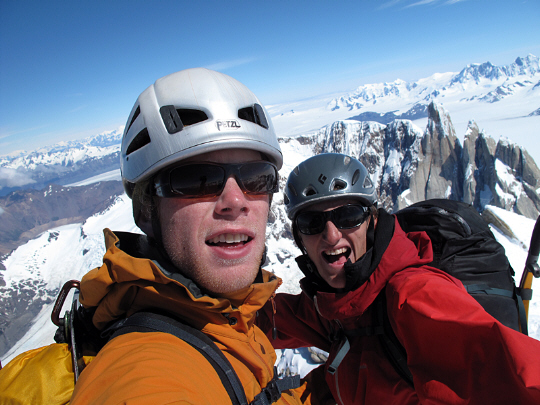 Patagonia is known for its walls, but lately I've been reading about climbers bouldering and sport climbing to pass time waiting for the weather to clear up.  Did you check any of that out while you were down there last season?
The sport climbing is limited, but new routes go up all the time – a worthy diversion while waiting out the weather. The bouldering in El Chalten however, is amazing! My first year down there Paul Turecki was establishing a bunch of classic problems. Pads were hard to come by though, so I was always scared of rolling an ankle and missing a weather window. More recently, Josh Wharton and Tommy Caldwell have established beautiful problems on many of the proud, high blocks. Lots of pads float around the town for loan, too. It snowed in the mountains continually for over a month last season, we started weather forecasting for the perfect sending conditions in town instead.
You've been working your way through the Mountain Guide certification program in Canada.  Can you elaborate a bit on what that program is like?
The program is great! The level of skill in the guiding profession is very high in Canada. I have been very fortunate to learn the craft from some of the best. I always look forward to the next training course or exam. I am taking my time in the program, though. My own personal climbing goals come first. As well, one can actively work as a guide mid-program. I am basically a gun-for-hire on rock, and in the mountains, for every guides' bureau on the coast.
Negotiating rime ice in Patagonia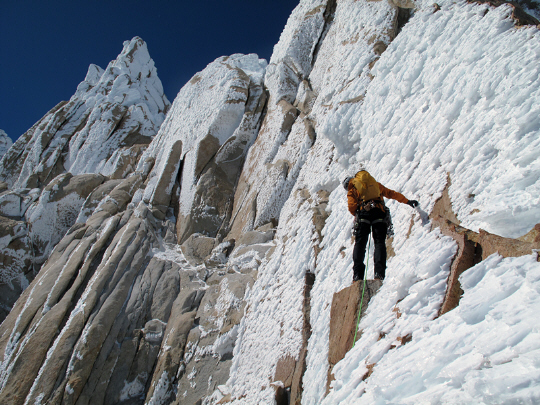 You do rigging work for concerts and the like, how is that?  Good cross training??
I do a variety of rigging and safety work for the arts and entertainment industry. I would consider it the default job-option for those with a climber/guide's skillset in the Vancouver area. The film industry was really busy this year but I was fortunate enough to steer well clear – good money, but a poor lifestyle. I have been working frequently this year with a Vancouver-based aerial dance troupe. That has been the most fun and interesting work. None of the rigging work I do is good cross-training, but long stints of inactivity during contracts certainly stoke the fire for climbing! I've been doing some of my best climbing lately off-the-couch, so to speak. Ultimately, I think it's better to be really hungry for it, than particularly well-trained.
Climbing big walls in remote places is expensive.  If money weren't an object what would your dream objective be?
Apparently you are more likely to achieve your goals if you write them down, so I recently started compiling a list of all the routes I want to do in the great ranges of the world. It's an expensive list, for sure, but I ain't sharing…
Who are your sponsors?
Arc'teryx, Ryders Eyewear, Metolius, and Five Ten
Thanks to Jason for the interview!