Many thanks to Lee Payne from the Denver Bouldering Club for putting together this interview with Flannery & Asher Shay-Nemirow, two siblings from the Denver area who are both psyched on bouldering (and many other things I'm sure).
Just 15 years old, Asher has been steadily improving these past couple of years and just recently did his first V12, William Shatner at Newlin Creek (Fryberger FA footage here).
18-year-old Flannery had a strong 2008 and 2009 with multiple V10s to her name before suffering a heinous finger injury in the spring of 2009.  After undergoing surgery and months of downtime she is back in form, sending her first V11 earlier this year in Joe's Valley.
How long have you both been climbing?
Flannery: I've been climbing for a little over seven years. At times I think it's been far less, and it's always kind of a shock to remember how long it's really been.
Asher: 1,900-ish days.
And how old does that make you both then?
F: I guess that means I started climbing when I was eleven, which makes me 18 now. Yeah, that parses.
A: I'm fifteen now, and I was 9 and 3/4 when I began climbing. Or something like that.
What are your proudest sends?
F: I guess I have a few. Firstly, Seurat (v8), because I've tried and failed so many times to repeat it. I'm also proud of Free Willy (v10) in Hueco because it seemed so improbable at first, especially with my ridiculous beta.
A: I'm pretty proud of not sending Center Route (v10).  Other than that, Left El Jorge (v11) and quite a few Morrison linkups.
How have you dealt with injuries?
F: Poorly. Actually, I managed by immersing my self more than ever into the climbing culture. I started working for Dave Wahl and Athletik Spesifik taking and analyzing climbing video. Additionally, my injury epic was going down about the time Thomas, Lee and Kevin started building the Denver Bouldering Club. As it turns out, belt sanding is a great alternative to climbing.
A:  Luckily, I haven't had too many injuries to deal with, though I did battle a nasty fractured growth plate for about 6 months. I found the injury to be very frustrating, especially when I thought I would be able to start climbing again, only to find I couldn't.
How supportive are your parents of your climbing antics?
F: Exceptionally! I am indebted to them in so many respects, whether it's helping me finance international climbing trips or letting me steal their mini van for more domestic adventures. It's trite, but they are by far my most important sponsor.
A: They have always supported us and encouraged our progression in the sport.
Flannery Shay-Nemirow bouldering at Lincoln Lake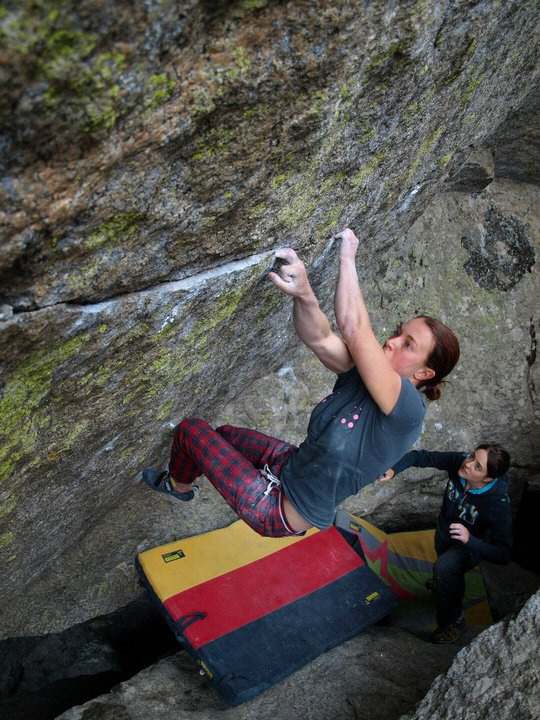 Photo:  Mr. Sock Hands
Have you ever roped up?
F: Yes, but I regret it. I would so much rather boulder at the DBC than suffer on a rope in a gym. Or Rifle. Or Ceuse.
A: I'm not that kind of guy… I started out on a rope, but found bouldering much more appealing. The little roped climbing I have done has benefited my bouldering.
How do you train?
F: I train with Athletik Spesifik, a company run by Dave Wahl out of the DBC. Dave has created a training regime that includes 3 one hour training session per week. Two of these are General Conditioning and one is Climbing Specific. This is, of course, in addition to quite a lot of climbing in the DBC.
A: I too train with Dave Wahl. I find it helpful, especially while injured, or during the winter. The DBC is nice because there is the ability to set your own routes and control your indoor climbing circuits.
What's the good and bad of climbing with a sibling?
F: At first I was super competitive with Asher, but as I've matured I've realized it's great to have a pad mule.
A: Flannery got me into climbing, and has done few things to reverse that kind act.
Who would win in an arm wrestle?
F: Asher would destroy. Undoubtedly.
A: Have won and will win.
Asher climbing at Lincoln Lake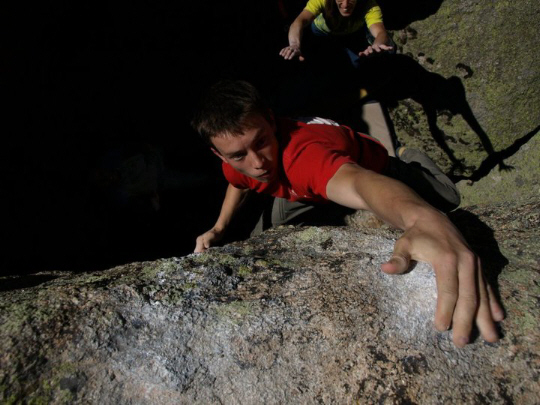 Photo:  Mr. Sock Hands
What are your long-term goals?
F: It's always been on my bucket list to climb V13. Just like a certain Angie Payne.
A: Become an experienced boulderer and develop a wide variety of climbing abilities. I also want big numbers.
What's your best circus trick?
F: One arm pull up, I hope one day to do one while writing a text message.
A: Lookin' good in my high school gym uniform.
What do you want to be when you grow up?
F: A dinosaur. Optimally a food critic, but I hear it's a pretty competitive industry…
A: 2020: a career that dips into, but does not immerse itself in climbing. Photography?
What are you reading right now?
F: I'm reading the Way of The Pilgrim. It's the book that constitutes the subject of discussion in Salinger's Franny and Zooey. Those Russian peasants could super write.
A: My earlier answers, to make sure I didn't say anything too stupid.
Flannery Shay-Nemirow bouldering at Lincoln Lake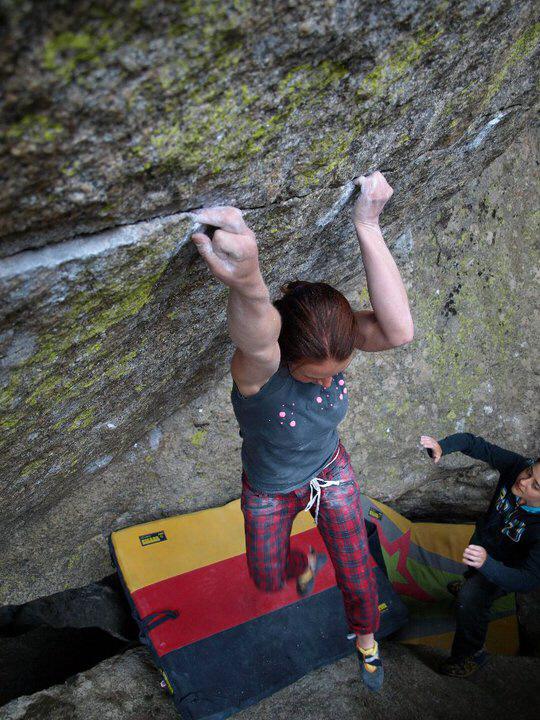 Photo:  Mr. Sock Hands
If you could be a super hero, what would your super power be?
F: After much discussion I have to go with flight. Alpine bouldering would be so much better without hiking.
A: The ability to levitate. Flight is unrealistic.
What scares you more, bears or mountain lions?
F: Mountain lions! They are like panthers, except they live in climbing areas. What could be worse?
A: Fact: The black bear scares me more.
Anything else you'd like to add?
F: I'd like to throw in a requisite shout out. Many thanks to Dave Wahl, Thomas, Kevin and Lee of the DBC, Josh at Organic, Blurr and Five Ten.
A: I don't know. Dave Wahl has done a lot for me.
Once again, thanks to Lee at the DBC for putting this together and to Flannery and Asher for taking the time to answer our questions