Next weekend from the 8th to the 10th of October Rocktoberfest will be taking over Kentucky's Red River Gorge with 3 days dedicated to having fun and paying down the mortgage on the Pendergrass-Murray Recreational Preserve.  Events throughout the weekend include dyno comps, music, pro clinics, jousting tournaments and a screening of CORE.  For more info visit the Rocktoberfest 2010 website.
I'd love to be able to say that I'll be at Rocktoberfest this year but I can't because that would be a lie.  After a stellar (for me) spring season down at the Red this fall is shaping up to be a big dud.  It's possible I may make zero trips to the Red!  I was unhappy about all this until I remembered that I'm going to Yosemite next week so I guess life isn't so terrible but still.  If you do end up going to Rocktoberfest have fun and don't let your weekend end up like Mrs. Narcs' did back at the 2008 installment of the event.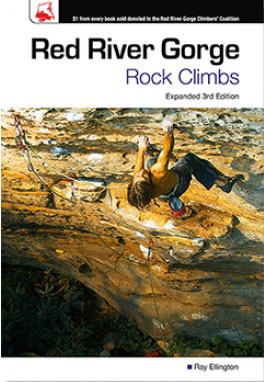 In other Red River Gorge news, the 3rd edition of the Wolverine guidebook came out late this summer (this is in addition to the excellent iPhone app they released back in the spring).  The print book features 392 pages and hundreds of new routes just in case you were running out of things to do when you visit.  I know I was.
One thing to note in the event you pick up a copy is that there were some mistakes in the Funk Rock City section with route numbering that could cause confusion about which route was which.  Since reprinting the book for everyone is a bit infeasible Wolverine Publishing released a corrected PDF topo for the area which can be downloaded here.