As promised back in February the critically acclaimed television series from Sender Films called First Ascent: The Series is now available for purchase in a 3-disc box set.
The series, which was co-produced with National Geographic, has won awards at film festivals in the U.S. and around the world and has been broadcast on international television.  Some of the episodes have been see in the U.S. before, most notably Alex Honnold's episode called Alone On The Wall, but this is the first opportunity for fans here in the U.S. to get their hands on the entire series.
The first 2 discs of the box set feature the following ~25 minute episodes:
Alone On The Wall – Alex Honnold's much heralded solos of Half Dome in Yosemite and the Moonlight Buttress in Zion
Patagonia Promise – Stanley Leary fulfilling a lost lover's dying wish in Patagonia
Impossible Climb –  Chris Sharma's quest to do the FA of Jumbo Love, his unrepeated 5.15b testpiece at Clark Mt., CA
Point Of No Return – Jonny Copp and Micah Dash's tragic final expedition in China
Brother's Wild – The story of Timmy O'Neill & his brother Shawn "pushing the limits of adaptive climbing"
Fly Or Die – Dean Potter merging his passion for free soloing and BASE jumping
First Ascent Series Trailer from Sender Films on Vimeo.
The 3rd disc contains about 2 hours of bonus footage including desert climbing, behind the scenes action, additional climbing in South America and more.
The 3 DVD package will sell for $49.95, which is pricey when compared to other climbing productions, but when you consider the breadth, quantity and quality of the box set the price doesn't seem quite as bad.  You can find out a lot more about the entire box set, including how you can order your own copy, on its website.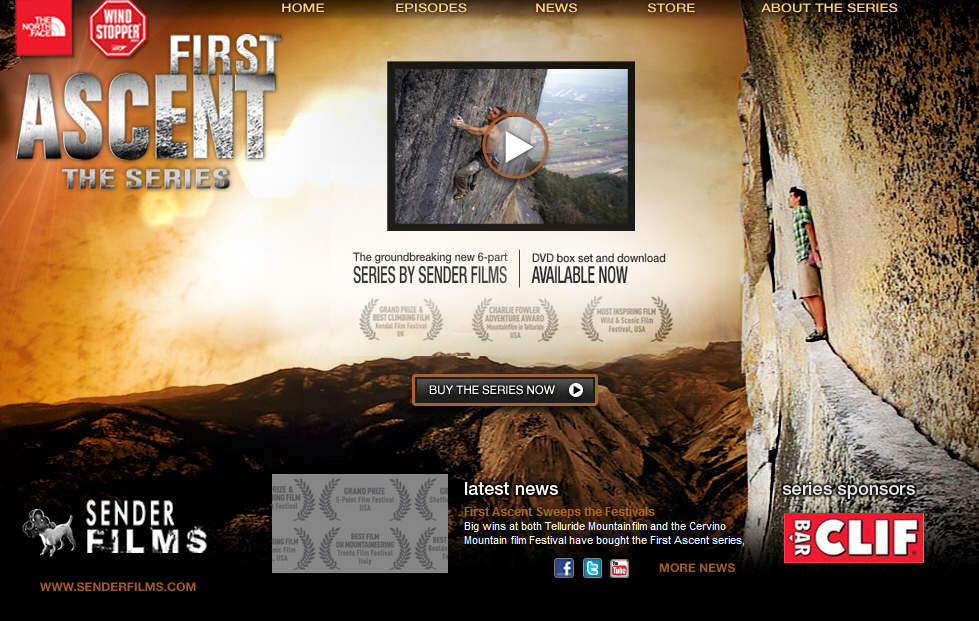 This package will be available for digital download in the future at a slightly reduced price, but there is no firm date on that yet.  There are also persistent rumors of it appearing on television here in the U.S., but nothing has been officially confirmed on that front as of yet either.
First Ascent:  The Series website
[poll id="101″]