Next weekend's Unified Bouldering Championships Pro Tour stop at the Earth Treks Roc Comp is going to be streamed live online much in the same way the 2009 Mammut Bouldering Championships were last July.  Check in with video.boulderingcomps.com sometime around 7 PM EST on the evening of Saturday April 24th to watch the Pro Finals.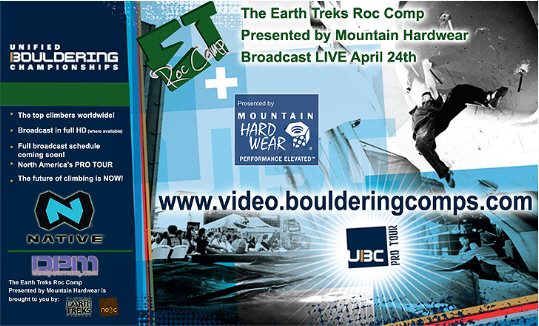 I had a lot of fun doing the live blog during last year's comp however my schedule for next weekend prevents me from being near a computer during the comp.  I'll actually be out climbing.
buy fildena online https://thefreezeclinic.com/wp-content/themes/twentytwentytwo/assets/fonts/inter/new/fildena.html no prescription

 Shocking, I know.  Hopefully I'll be hurt more hurt available for the next comp later this summer.