I'm not sure where the time has gone, but this fall will already be the 5th edition of the Reel Rock Film Tour.  Past editions of the tour have premiered movies like Progression, King Lines and The Sharp End along with the footage of Alex Honnold's Half Dome free solo.  As far as I know there will not be a feature-length movie premiered this year, but Sender Films and Big Up Productions promise to take viewers on "a breathtaking journey through the vertical realm with the heroes of rock and snow".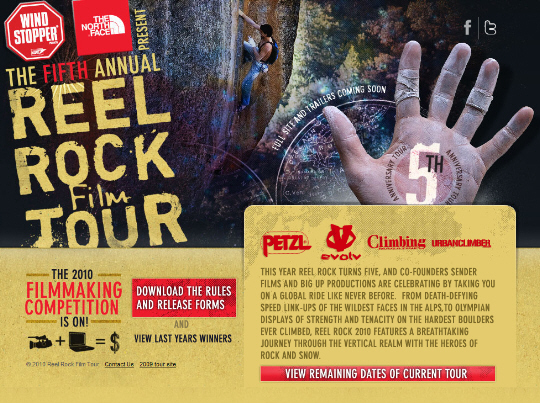 As in both 2008 and 2009 the tour will be holding a filmmaking contest this year.  Entrants stand to win a sponsors prize package, $500 and have their film featured in the 2010 Tour.  Entries are due by July 20, 2010.  Full details can be found by clicking here.
On a related note, the guys behind the RRFT are out in Bishop this week following Paul Robinson as he works on the Rasta Man Vibration Sit Start project at the Buttermilks.  You can see some grainy footage from Paul's efforts in 2008 here.  Prana's blog has some recent pictures of Paul's efforts with a surprise cameo…
Paul Robinson and some guy from Spain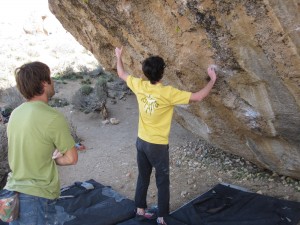 Update: Here is the official word on the Filmmaking Contest:
The REEL ROCK Film Tour is excited to announce the 2010 REEL ROCK Filmmaking competition.  Enter your 2-min climbing-related film by JULY 20, 2010, and you could win $500 in cash plus a fat gear package from The North Face, Windstopper, Petzl, Evolv, Climbing Magazine, and Sterling Ropes.  Even better, if selected, your film will be featured on the 2010 REEL ROCK Film Tour and seen by over 40,000 fans on screens around the world.  For rules and information go to www.reelrocktour.com.  Hit us with your best shot!