It seems like an annual tradition at this point that each winter some of America's strongest boulderers make their way to Arkansas to sample the untapped sandstone that can be found there.  Recent winters have seen the likes of Daniel Woods and Dave Graham leave their mark with a number of double digit FAs.  This winter looks to be no different with Paul Robinson making his first trip to Arkansas.
Not surprisingly, Robinson started things off quickly with fast ascents of the V13s Anti-Hero and Loved By Few, Hated By Many.  The same day he also flashed Bloody Knuckles (V11) and nearly sent Daniel Woods' Welcome To The Fight Club (V13).  For good measure he threw in an ascent of Typhoon, a problem given V11 by all other 8a.nu registrants, Hurricane (V10) in his street shoes.
Paul Robinson attempting Welcome To The Fight Club (V13)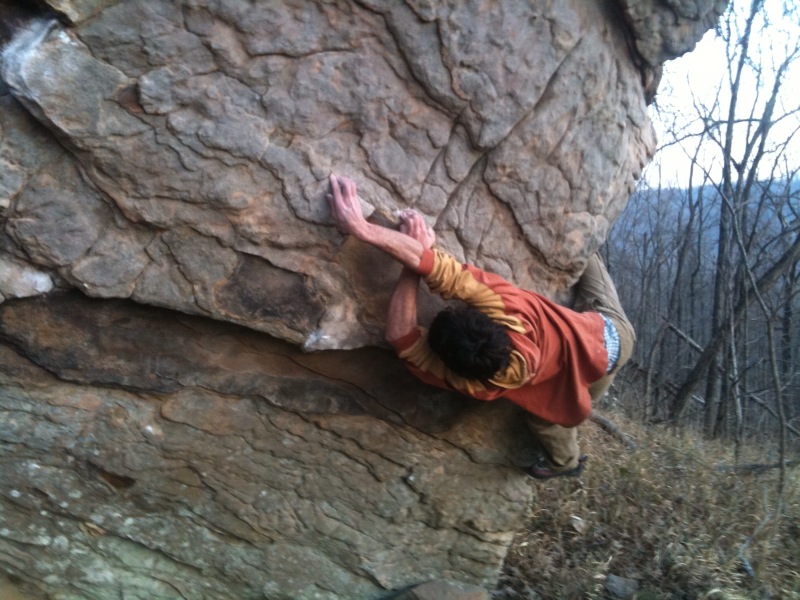 Photo:  Evan Ramsey
The next day, Robinson turned his attention to Dave Graham's V14 Wood Grain Grippin'.  Seen briefly in the Arkansas dose in Dosage V, WGG had only been repeated thus far by Daniel Woods.  Wasting little time, Paul sent in a handful of attempts for an impressive 1 day ascent.
Moving on to Fred's Cave outside of Cowell, AR, Robinson quickly dispatched nearly all the problems in the cave.  He did V12s One Inch Pinch and Chunk Up The Deuce in a few tries, flashed Fred's Roof (V11) and did Buddy (V10) second try.  Making the short move to the nearby unrepeated Dave Graham V14 Lost In The Hood, Robinson put in a few tries working on the "lurpy" deadpoint crux as well as the top section.  Sounds promising if conditions hold up.
Robinson has a couple of weeks left in Arkansas to try and finish a couple of hard sounding projects, one being a 30 move roof with a crux near the end, before moving on to Southern Utah.  As always, I will provide updates as events warrant.
While we're on the subject of boulders in Arkansas, the grade of the problem Loved By Few, Hated By Many is worth exploring a bit further since I think it illustrates a point worth remembering.
buy lasix online https://rxxbuynoprescriptiononline.net/dir/lasix.html no prescription

 The problem was first climbed by Dave Graham who had this to say about it on his 8a.nu scorecard in registering the problem as V13:
Hard Very difficult, sort of like a one percent move but not really, one long hard deadpoint, longfellow and oddfellow. definitely height dependent. Could be harder. Pretty.
Jimmy Webb came along with a fast 2nd ascent and registered the problem as V12 with this to say:
Soft quick. 6 or 7 tries. A couple tries last year. 2nd ascent Excellent!
And now Paul Robinson has done a fast 3rd ascent, registering the problem as V13 like Dave Graham did.  This is what Robinson had to say on his scorecard:
Soft soft 8b… dont think it should get the full downgrade though… i dunno. 3rd asc. one real hard move!
Here we have 3 very capable climbers (2 with loads of V13s and V14s under their belts) with 3 differing opinions about what is basically a 1 move boulder problem.
buy flexeril online https://rxxbuynoprescriptiononline.net/dir/flexeril.html no prescription

 It's obviously splitting hairs to pick a specific grade given how much of a role conditions and body size play in sending problems like LBF,HBM, but I always find it interesting to read first hand opinions on what these problems are like.  To me it emphasizes the fact that while it is interesting to report specific numbers when reporting news like this it is really impossible to say definitively what problems will be graded years down the road after more people have the chance to climb them.