Keith Bradbury from UncleSomebody sent me a copy of his soon to be released movie Between The Trees the other day and asked me to give it an "honest" review.  I was more than happy to do so since I was already eagerly looking froward to seeing how he told the story of Ty Landman's impressive trip to the bouldering mecca of Fontainebleau.  Unfortunately, I ran out of time in the run up to my Hueco trip, and I was only able to half watch the movie as I did 50 other things on my computer.  Since I couldn't give the movie my full attention I can't give a full review, but I can share a few quick thoughts.
From a visual standpoint the movie looks good, but the Reel Rock Tour and movies like Progression have set the bar almost impossibly high when it comes to climbing film making.  One comes to expect sweeping visuals and many different angles, but that's not possible for every filmmaker.  Overall, Bradbury does a good job considering that the "film crew" mainly consisted of himself and a lone camera.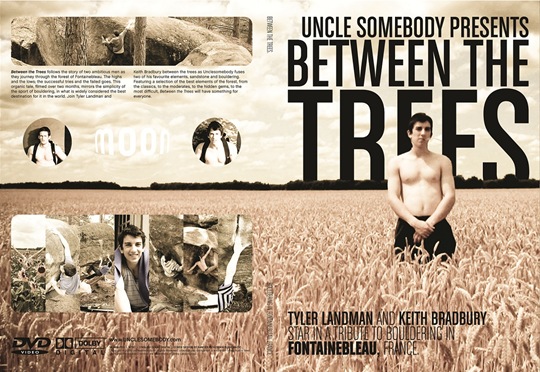 The main aspect of the movie that I missed in my multi-tasking was the overall storyline.  I can't really say that it worked or not since I missed a lot of what was being said in between problems.  From what I did see, the interviews were mostly interesting and I enjoyed that fact that Landman often pointed out how it's not always the most difficult line that is the most satisfying to send.
The one thing I can assure you of is that there are a lot of problems shown in the almost 70 minute movie.  From a climbing porn standpoint alone the movie should be very intriguing to anyone that has wanted to see more of the bouldering in Font.  The grades of the problems shown are almost irrelevant because Landman makes most seem effortless, but they do range from moderate up to V14.
BTT will be available soon from the UncleSomebody website as either an HD download (roughly $20 US) or a DVD (roughly $25 US including shipping).  As is the norm these days, the DVD comes with extras you won't get if you go the download route.  I was only able to watch a couple of the extras so I can't say if they justify the extra cost of buying a DVD.  One of the clips I saw featured Landman talking about some of his climbing philosophies, while the other showed some additional problems.  Promising, but I need to see the rest before I can decide one way or the other.  My guess is that most people who buy the movie will go the download route as that is just easier.
I'll try to provide an update when I get the chance to watch the movie again.