SuperTopo is fast becoming the go to source for colorful, informative, accurate and up to date guidebooks for climbing areas up and down the west coast.  Each of their books comes chock full of color photos, accurate approach information, detailed topos and my favorite: plenty of historical nuggets.
In addition to providing high quality print versions of their books, SuperTopo also has downloadable eBook PDF versions of each book.  These eBooks are both cheaper and in many ways more convenient because you can just print out the page(s) you need for a given climb and stuff them in your pocket to take up on the climb with you.  No more destroying your guidebook stuffing it in your pack.  As a bonus, the eBooks also come with a 3 year "Always Fresh" guarrantee which gives you free updates for 3 years.  Pretty sweet if you ask me (although I have yet to see any updates in the 1+ year I've had a couple SuperTopo books).
Given my past enjoyment of a couple of SuperTopo's previous offerings, I was excited to have the opportunity to review three of their latest offerings:  Tuolumne Free Climbs: Second Edition, Tuolumne Bouldering and Zion Climbing: Free and Clean.
Tuolumne Free Climbs: Second Edition – $26.95 print, $23.95 eBook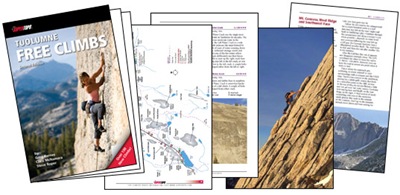 Having just spent a week climbing in Tuolumne Meadows using the first edition of SuperTopo's Tuolumne Free Climbs, I was both chagrined and excited to see that the second edition came out shortly after we got home.  I was chagrined when I saw all the new routes listed in the book that we didn't have an opportunity to check out during our trip, but I was excited to make a return trip to do just that.
The updated version of the guidebook features a number of new routes established on the granite domes of Tuolumne since the first edition was published a few years back.  This brings the total number or routes listed to over 250, which should be plenty whether you are looking to test your head on some of the old runout testpieces, or if you want to climb some of the newer, somewhat more closely bolted lines.
Tuolumne Bouldering – $16.95 print, $14.95 eBook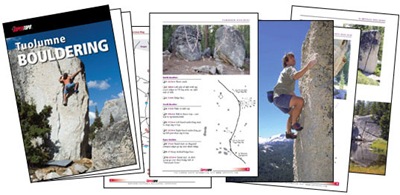 While Tuolumne is well known for its big granite domes, the boulders that are often found beneath them have not gotten much publicity.  SuperTopo's Tuolumne Bouldering will help you navigate 275 boulder problems at roughly 20 different areas scattered throughout the Meadows.
Much like the Yosemite bouldering guide, this book features many full color pictures that depict exactly where problems climb so you aren't left doing as much guessing as is sometimes the case with more generic topos.  Tuolumne Bouldering also features some nice historical articles from the likes of Ron Kauk and John Bachar which give a nice sense of the history behind many of the boulders.
One thing worth noting is that the book is only a collection of some of the better problems around Tuolumne, and I heard grumblings from at least one person that other worthy problems were left out.  Something to keep in mind I suppose, but this book is still a great way to introduce yourself to Tuolumne bouldering at a pretty reasonable price.
Zion Climbing: Free and Clean – $29.95 print, $26.94 eBook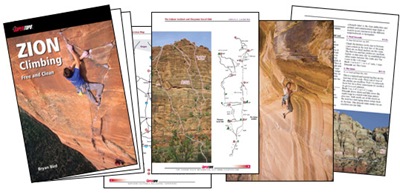 Admittedly I have little expertise when it comes to evaluating a book about aid and long free climbs in Zion National Park, UT.  What I can comment on though is that this book delivers the same high quality one expects from every SuperTopo guidebook.  Zion Climbing is full of colorful topos and interesting historical pieces that got even me jonesing for a trip to Zion (not that it's likely to ever happen).  To me this book seems like a no brainer if you are planning a trip there.
For a more in depth review of Zion Climbing from the perspective of someone who has climbed extensively in Zion, check out the review at SplitterChoss.
Be sure to check out the links for each book to see plenty of sample pages and get all the info on what is in each one.