Rock & Ice editor Andrew Bisharat has been hard at work on a book coming out this October about sport climbing called Sport Climbing:  From Toprope to Redpoint, Techniques for Climbing Success. You might be saying to yourself, why would anyone need to read a book on how to sport climb?
I myself have never really given a whole lot of thought to the process of sport climbing, but as Bisharat explains on his website, times are changing:
Will this book be a hard sell? Perhaps, because the prevailing attitude held by many climbers is, "Sport climbing? What could be complicated about that? Just take the clippy things and attach em to the shiny things in the rock."

Many people also still seem to be hesitant to label themselves a "sport climber" since there are some lingering stigmas from the 1980s that go with that term. If we define ourselves by the Things We Own, then who would really want a book that says "Sport Climbing" on the spine to sit on their bookshelf? Ho ho. It's about time we all be honest with ourselves. Every single survey that we've done has shown that more people (over 80 percent) go sport climbing than anything else.

…snip…

I try to present this modern version of sport climbing with a very modern vision. I truly believe that there is a brighter a future for sport climbing than in any other climbing discipline.

…snip…

Sport has the brightest future since we're only just discovering that it's possible to climb overhanging terrain for multiple hundreds of feet. The sport routes of the future are going to have sustained climbing with no rest that lead into V-double-digit boulder problems. Sport climbing will use the advances made in bouldering and bring them to routes that are over 200 feet long. The 5.15's that have been done are going to look like child's play in 10 years. However, I think that the hard boulder problems/trad routes and obviously ice/mixed climbs are going to remain in their relative statures.
Incorporating the advice and knowledge of some of America's best sport climbers, Sport Climbing… looks like it could be a pretty useful tool to take your sport climbing to the next level.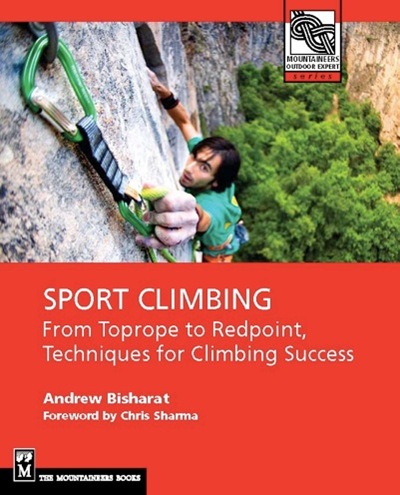 Skills covered in the book:
Learning sound free-climbing technique
Gear: how to choose it and keep it safe
Leading: From top rope to the sharp end
Advanced leading techniques
Better onsighting
Advanced redpointing
How to be a great belayer
How to best apply these skills at the crags
Here is a video clip that explains more what the book is about: