The Outdoor Retailer Summer Market tradeshow is where outdoor companies come to share their latest and greatest products, and the same holds true for climbing filmmakers.  Big Up Productions will be debuting select cuts from their upcoming release, Progression, at a few different events during the week.
Wednesday night they will be debuting footage of Chris Sharma's first ascent of Jumbo Love (5.15b) at Clark Mt., CA after the citizen's competition at the Front Climbing Club.  Here is what Josh Lowell had to say about the event at the Big Up Blog:
…we are eager to let folks in on where we're going with it, and to get some feedback. As of now the plan is to show the footage of Sharma's first ascent of Jumbo Love, which we filmed back in September. Only a handful of people we work closely with have seen this footage (not even Chris has seen the full cut). So if you want to be among the first to check it out, be sure to come to The Front, drink some beers, and join us for this little teaser screening. And let us know what you think while there's still time to make changes on the edit!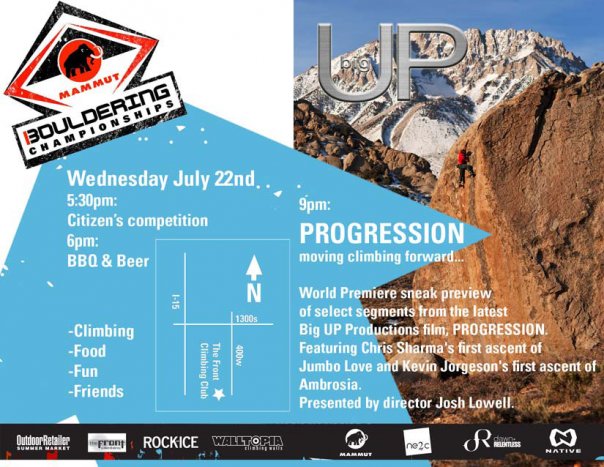 Thursday at 1:30 Big Up will have another sneak preview at the climbing wall inside the show:
On Thursday at 1:30 we will present another sneak preview from Progression at the Climbing Wall inside the trade show. If you are in the building come by the wall area to see additional sections of the movie and meet some of the climbers. We'll probably show KJ's ascent of Ambrosia, which, again, has never been seen. Maybe also a look at Tommy Caldwell's El Cap project, Mescalito…. we'll see what we have ready by then, and what people are excited about, and I'll be there to do a little Q&A session.
If you are not at the tradeshow your next opportunity to see this footage will be on the upcoming Reel Rock Film Tour which launches in September.