In keeping with this week's theme of innovative ways climbers are working for their sponsors, I wanted to make sure to mention The North Face's Summit Series Road Trip going on right now over in Europe.  TNF athletes James Pearson and Gaz Parry are travelling all across Europe to climb classic 8a's (5.13b) while spreading the TNF brand message at each stop:
The Summit Series Road Trip will be hosted by The North Face athletes James Pearson and Gaz Parry. Beginning on 1st April 2009 with a Climbing Festival at the Castle Climbing Wall in London, UK it will then cover a distance of over 11000 km, ending on May 10th in MelloBlocco, Italy. In each country there will be a mixture of challenging climbing, slideshows, master classes, demonstrations along with press and store appearances; with 20 'summit' days in classic venues climbing 20 of the best Fr8a routes in Europe, and 20 'approach' days talking to young climbers, the public and the press.
To give you a better idea of the scope of their journey, the guys put together this interactive map of all the places they are attempting to visit: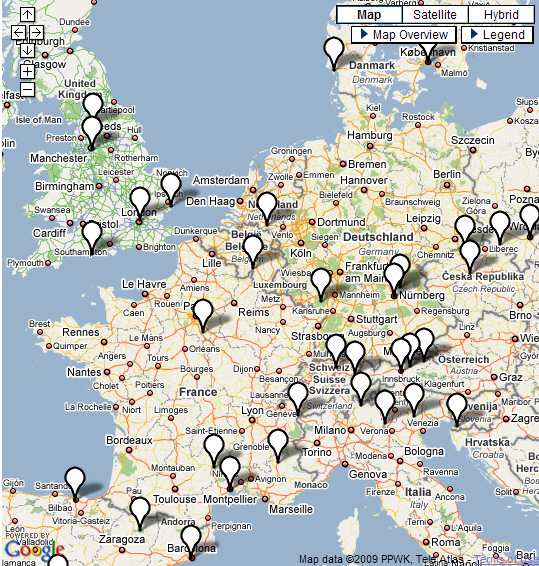 These days no road trip would be complete without some media.  Luckily, Keith from UncleSomebody is along for the ride and he has put together a series of webisodes as their trip has progressed.  Here are the first and third in the series:
As you can imagine, a road trip of this magnitude on such a tight schedule can produce some pretty interesting stories.  You can read all the entries from their trip at the TNF Summit Series Road Trip blog.