Let's start out the stories from our trip to Yosemite with someone (sadly not me) sending the most famous boulder problem on the planet, Midnight Lightning (V8).  Located smack dab in the middle of Yosemite's famous Camp 4 campground (and literally 10 feet from the bathrooms), Midnight Lightning's fame does come with a few downfalls.
The major downfall is that it's accessibility and fame have led to it being the most attempted V8 on the planet.  The level of polish on the holds cannot really be understated.  One of the key footholds at the start is about 3 inches wide by 1 inch deep and it is difficult to keep your foot from slipping off!  Just imagine what the technical footholds feel like.
The other issue is crowding. Make it to the infamous mantle move when the campground is busy and you will draw quite the crowd.  Unless of course you are me two years ago and you are too scared to do the mantle without more pads and spotters and there is nobody around but Mrs. Narc….but I digress.  If you have a hard time performing with a crowd you might want to wait until the middle of the night when it's just you and the bears.
The crowd that forms.  This area was empty 10 minutes prior…
Despite these issues, the movement of the problem combined with its history more than make up for them.  It is still my favorite problem I have ever tried, and I haven't even sent! The moves are so good!
Here we have fellow climbing coach Joe Czerwinski proving coaches can certainly crank just as hard as the kids these days.  If I'm not mistaken this send took place after only a few tries!  Enjoy the move-by-move beta…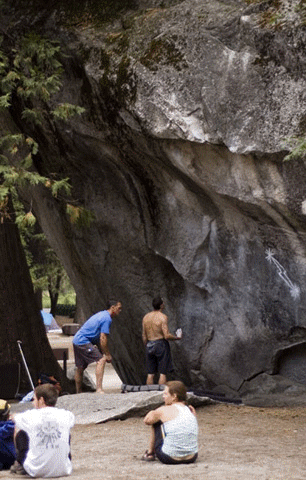 If you are reading this in your RSS reader, it is much easier to visit the actual post to see the images
Part of the crowd that rolled up when Joe was about to send was the kids from Team Texas.  Unable to resist the temptation of the lightning bolt, several of the kids got their shoes (Dragons, good call TT) and gave Midnight Lightning a shot.  I left before they were done so I'm not sure if anyone was able to send.