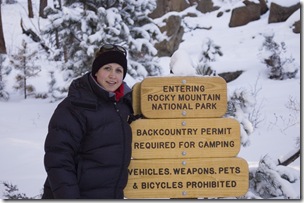 With one day to ourselves before our coaching duties commenced for the recent ABS Nationals comp in Boulder, we somehow had to pick only a couple of activities out of the myriad things to do in the Frontrange to spend the day doing. I very badly wanted to visit RMNP in some way, but I was unsure what to do because of the snow. Luckily, Andy Mann came through with a great suggestion to head to Lumpy Ridge and do the hike to Gem Lake. Thanks for the suggestion Andy!
Most of my memories from my only trip to CO took place in or around Estes Park so it was incredibly exciting to return there on our way to Lumpy. I think anyone that has been through there would agree that it is a special place. The hike to Gem Lake offered some incredible views as we gained altitude, and the thinner mountain air was really refreshing. Gem Lake itself was a bit underwhelming because it was hidden under snow and ice; however, the hike itself was very worthwhile. Unfortunately my other objective for the day, to go hiking in Eldorado Canyon, was thwarted by poor road conditions and an inadequate 2 wheel drive rental car. Instead, we ended up doing a bit of hiking around the Flatirons, driving up Flagstaff in a futile search for Trice, visiting Neptune and REI and watching some of the qualifiers at The Spot.
You can see more pictures from the hike to Gem Lake as well as some pictures of us playing tourist around Boulder on the newly revamped pictures page. Once you are there, click on the trips tab and you will be on your way. Let me know if you have any problems.