We are unfortunately back in the never ending arctic winter of Wisconsin. The weekend at ABS Nationals in Boulder was amazing to say the least. Our computer is in need of a new video card so it will be a few days until I have a chance to go through all the pictures from the weekend. I will have a more thorough write-up at that point, but until then here is a very brief re-cap of the Adult finals on Saturday night:
It was very cool to see one of my predictions come true when Paul Robinson won for the men. Despite not seeming at his strongest Paul still managed to top a strong field that included crowd favorite Chris Sharma and Canadian Sean McColl. Notable performances were also turned in by Mark Hobson, Tyler Haack and Ryan Olson who had highpoint on Men's # 4.
Unfortunately my other prediction for Lisa Rands to win for the Women did not come to fruition as she couldn't put it together on Women's # 4 and came in 6th place. Alex Puccio eked out a victory over Alex Johnson by the slimmest of margins despite only finishing two of the problems (compared to Johnson's 3).
Paul Robinson – ABS 9 National Champion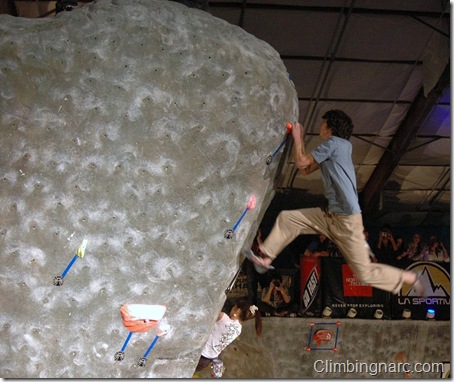 ABS 9 Nationals Male Open
Paul Robinson
Chris Sharma
Sean McColl
Mark Hobson
Tyler Haack
ABS 9 Nationals Female Open
Alex Puccio
Alexandra Johnson
Paige Claassen
Elizabeth Asher
Tiffany Hensley
You can see full results for both Adult and Youth competitors by clicking here.