Despite the (deserved) attention being focused on the sending taking place at Hueco, people are actually bouldering in other parts of the country. Take Dave Graham for instance who rang in the New Year at Arkansas's Horseshoe Canyon Ranch. He has had a rather productive last week to end 2007 and start 2008 on a high note. He has done 3 solid repeats in Anti-Hero (V13), Sharma's King Lion (DG's beta warrants V12) and a flash of Bloody Knuckles (V11). Along with that he has established new problems All Screwed Up (V13), Southern Lean (V12), The Dirty 30 (V12) and The Dirty 40 (V12). Not a bad week. It looks like Chad Greedy has been climbing with Dave so I would expect that we will see some video footage popping up somewhere in the coming months.
I have always meant to check out HCR but haven't been able to for various reasons. If you are interested in going, you can download a free topo on the bouldering at HRC here.
You can see footage of the highball iron cross problem King Lion in both Dosage 3 (Sharma) or at the Momentum Video Magazine free area (Pringle).
Chris Sharma on King Lion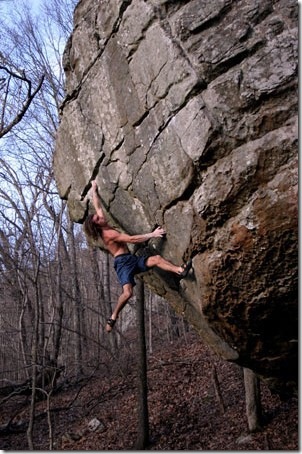 Here is Ty Landman on the FA of The Anti-Hero from Moonclimbing
[youtube=http://www.youtube.com/watch?v=LJivABPs95Y]