21 year old James Pearson added to his unprecedented list of V13 flashes this past month when he flashed Schules des Lebens in Chironico, Switzerland. In Switzerland to work on Dave Graham's unrepeated V15 From Dirt Grows the Flowers, Pearson had a great deal of success on several of the "easier" problem he tried. He had this to say about his efforts on Shules…
Schule des Lebens is a short, crimpy 8b on the Deliverance boulder. Due to the basic nature of the holds and most of the moves I decided that it might be possible to flash. I watched some friends trying the moves and planned out a potential sequence. The first move definitely looked like the hardest and I was incredibly nervous about pulling on knowing that the following seconds could mean success or failure. The starting holds felt really small and the necessary body position didn't appear obvious. I focused on what I thought would work, making sure that my feet were placed precisely before firing upwards for the edge. I stuck it and tightened up my core so I could move my feet. The next few moves went well and after a little bit of a fight with the last two moves I had made it to the top. My third 8b flash, fantastic.
This is his third V13 flash after Ganymede Takeover and The Great Shark Hunt, both of which he flashed earlier this year. From reading about all 3 of Pearson's V13 flashes and reading the comments of others on the same problems, it seems that you could argue all 3 could be hard V12. For instance, Daniel Woods did Shules des Lebens second try and Dave Graham has commented that Shark Hunt could be V12 (although it is still registered as V13) . However, you still have to give him credit as nobody has managed to repeat his accomplishment on any one of these problems, let alone all three..
Pearson flashing The Great Shark Hunt (V13) in April of 2007.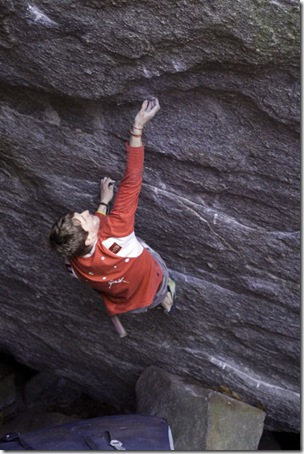 Photo: Simon Richardson/DarkPeakImages
You can read more about his flash of Ganymede Takeover here and his flash of The Great Shark Hunt here. Word on the street is that Pearson is coming to the Frontrange with Daniel Woods in the near future…