Here are some tidbits and things to check out:
Dave Graham recently added another 5.14d to his impressive list of sends when he sent Ali-Hulk at Rodellar, Spain.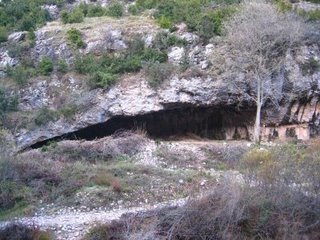 Infamous Ali-hulk Cave
Andy Raether recently repeated Tommy Caldwell's route Grand Old Opry at the Monsatery outside of Drake, CO. Back in 1998 Tommy graded it .14a while Andy feels like it is probably closer to 5.14c. You can see the video of the send at MomentumVM.
Justin Jaeger climbed something that isn't V7…what gives???
Ethan Pringle recently took a trip to Squamish to work on Chris Sharma's Dreamcatcher 5.14c/d. This is the incredible line featured in Dosage 4. Ethan even brought his laptop out to the crag to help out with beta for the tricky slab at the beginning of the route. http://christie-images.com/
Daniel Woods added 2 more V13's (and 1 V12) to the ole' spraycard this weekend. He made quick work of Castellette SDS and Roses and Blue Jays at Great Barrington, MA. Conditions weren't prime but that hasn't really stopped him before. You will be able to see footage of Paul Robinson sending these problems in an upcoming Dosage video.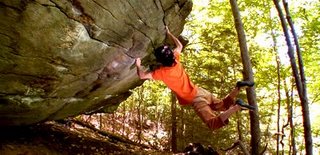 Paul sending Castellette SDS V13
Image from the new BigUp Blog
Speaking of climbing out East, I thought I saw a flier somewhere about some sort of outdoor bouldering comp last weekend out that direction but can't remember the name of it to look it up. Anyone know what it was called?
In my blurb about climbing filmmakers last week I forgot to mention Wes Powell. I was familiar with his film work (which is really good) but I can't say I am that familiar with him as a climber. Perhaps SG could shed some light on this? If you want to see some of his footage check out some excerpts from his film Homestyle at where else but MomentumVM.