Former World Champion sport climber Martina Cufar from Slovenia announced her retirement from competitive climbing in 2006. During her competition days she sent sport routes as hard as 5.14b at her local crag Misja Pec in Slovenia. Recently she set out for the United States with the goal of climbing El Capitan in Yosemite. The only problem…she had never placed a cam in her life:
I also had to cope with another novelty; no bolts. I'd never placed a Camalot in my life, so this was scary for me. And when you're fighting with a crack it's hard to find the right Camalot, place it well and climb on. It took me some days to overcome my fear of falling onto the pro.
Not surpisingly she was a quick learner and soon was climbing 5.12s at Indian Creek:
I did my first 5.11, then 5.12. I was as happy as if I have done an 8b! On the last evening I was really close to doing Ruby's Cafe 5.13a…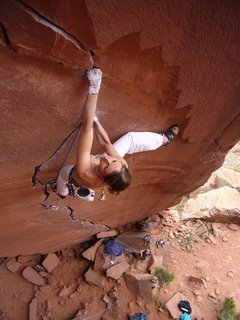 Anunnaki (5.12-)
Photo by Arnaud Petit
After gaining some experience she moved on to Yosemite and quickly teamed up with Sean Leary on his quest to free Golden Gate (5.13b, 41 pitches) on El Cap:
Spending six days on a wall was an unforgettable experience. I slept on a wall for the first time in my life, with hundreds of meters of air below you. I loved the exposure!
They ended up falling just short on their goal of one person (Sean) doing all the pitches free, but Martina freed several pitches including two of the 5.13 pitches.
In between long routes like Astroman and Regular Northwest Face on Half Dome, she managed to work in a send of the famous Ron Kauk route Separate Reality (5.12) which was made famous when a picture of Wolfgang Gullich free soloing it was on the cover of a magazine.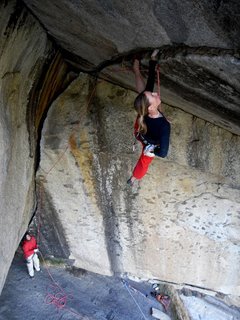 Separate Reality
Photo by Arnaud Petit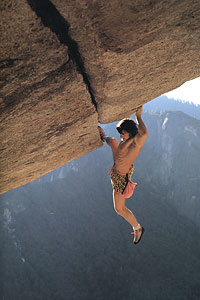 Wolfgang Gullich freesoloing Seperate Reality
Read the whole article at PlanetMountain