There is a lot of mystery surrounding this project at the epic 3rd Tier/Monastery of Clark Mountain that Chris Sharma has been working on. It is getting a lot of play for becoming THE standard for hard climbing if/once he sends it. Details beyond this have been hard to come by although a few words have come out here and there. Through my intrepid and neverending intardweb trolling I have come across the following picture of Sharma on the project: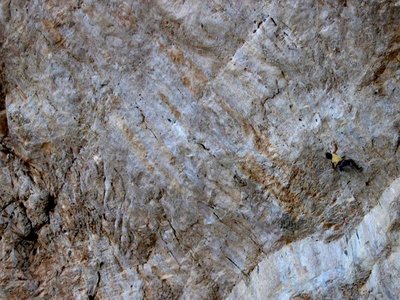 Photo: Randy Leavitt, UKC news
The horror stories of the approach (4-wheel car crushing terrain, big spiders, miles from medical attention, 4th and 5th class "hiking") to Clark Mt. have also piqued my interest a bit, and I found an interesting article by Randy Leavitt who was one of the early pioneers of the area. It is called Clark Mountain – the best limestone in America.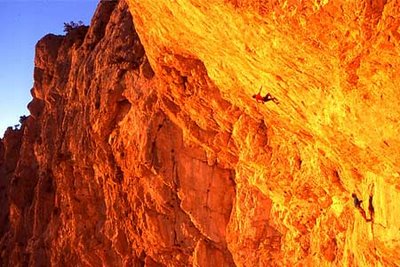 Randy Leavitt on the 2nd pitch of Jumbo Pumping Hate (5.13d although I think the kids call it 5.14a now)
Photo: Jorge Visser
Here is Randy's description of how he found this limestone paradise 40 miles South of Vegas in the early 90's:

I had scoped Clark Mountain from the freeway (with a telescope) for years. After climbing on the limestone at VRG, I felt Clark was probably worth a closer look. I scoped it out from commercial planes, when I would make routine trips to Salt Lake City. I purchased topo maps and finally made a trip to Clark when I was on my way to Charleston with Rudy Hofmeister. We first found a smaller crag on the north side. We hiked to it and thought it was okay. On our way back to I-15, I glanced in my rear view mirror to see the main section of Clark (tiers 1-3). I nearly sh**, because it was so much better than what we had just seen. Rudy and I scrambled and hiked to the first and second tiers (this initial hike took over four hours to get to the second tier because we didn't go the most efficient way). Finally, I went to the base of the third tier and couldn't believe how vast and featured it was.
Burly!And if that isn't enough for you, here is a guide to "Birding" at Clark Mountain.
Technorati Tags: Chris Sharma, Pictures, Climbing News, Randy Leavitt