Leaving town for the weekend so here are some cool people/sites you can check out in the meantime:
Ryan Olson has two pretty cool sites that are worth checking out on a regular basis.

First is his personal blog that has a pretty cool update on a FA that he did last week at the Walker Ranch area outside of Boulder.

He called the problem Burnout:

Photo from Ryan's site

Jamie Emerson posted an update on his site after he recently made the 2nd ascent of Burnout. Ryan was also nice enough to put a link to my site on his page, thanks man.
Second is Ryan's very cool effort called ColoradoClimbs.com.

Here you can get the latest climbing media from Colorado and beyond.

There is also a really cool list that has been compiled of difficult boulder problems established in Colorado and the climbers that did the FAs.

I WILL move to Colorado one of these days.
Another site that is also very cool is Scott Gross's blog.

He has some very good photography and information on what is happening in the Southeast.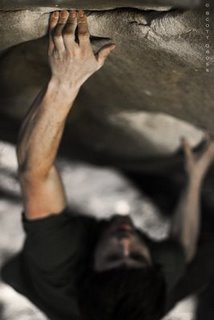 Scott was also nice enough to hook me up with a link on his page, thanks Scott.
I'll be back Sunday night with the usual list of weekly spray. I also hope to have some video for you from my trip to Little Rock City last year.