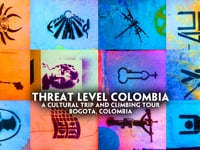 [vimeo http://vimeo.com/28913113 w=980&h=551]
| Video Source | ClimbingNarc Video Page
http://www.lt11.com
Download the 1080p version from http://lt11.com/downloads2/ free!
http://www.facebook.com/louderthan11

Louder Than 11 is proud to present, "Threat Level Colombia", a documentary about climbing in Colombia, South America, a cultural trip and climbing tour.

A team of seven Americans consisting of Kara Caputo, Jon Glassberg, Jonny Hork, Ben Hoyt, Nic Sherman, Jordan Shipman, and Carlo Traversi spent two weeks around the capital city of Bogota, searching or new boulders, establishing first ascents, and soaking in some of the best nightlife on the planet.

This is the documentary about their journey to Colombia and the experiences they want to share with everyone in hopes of motivating you to make the trip to one of the best destinations around.

Threat Level Colombia
A Louder than 11 Production

Produced by
Jon Glassberg
Nic Sherman

Directed by
Jon Glassberg
Jordan Shipman

Cheif Editor
Jordan Shipman

Assistant Editor
Jon Glassberg

Video
Jon Glassberg
jordan shipman

Starring
Juan Pablo Caballero
Kara Caputo
Mateo Cardenas
Jon Glassberg
Jonny Hork
Ben Hoyt
Nic Sherman
Jordan Shipman
Carlo Traversi

Motion Graphics
Jordan Shipman

Spanish Translation
Emilia Rafaela
Nic Sherman

Music Supervisor
Jon Glassberg

Music
Dean Barrett & Judy Whittaker "New wave"
Sian "Sacred Geography"
The Glitch mob "How to be Eaten by a Woman"
Scott P. Schreer, Taras Mashtllar & Ernie Lake "I lashed"
The Glitch Mob "A dream Within a Dream"
The Dove "Girl at a Party"
Alexis Raphael "Kitchens and Bedrooms"
Scott p. Schreer, Taras Mashtllar & Ernie Lake "Antenna if"
Zombie Nation "Tight"
Commix "Japanese Electronics"

Special Thanks
Mateo Cardenas
Juan Pablo Caballero
The Twisted Wig Crew
Gran Pared
Zona De Bloque
Mr. & Mrs. Sherman
Andrew Tower

Free. Whether you like it or not.
Copyright © 2011 Louder Than 11, LLC.
All rights reserved.
Related Videos
Posted In:
Bouldering
,
Sport Climbing
Tags:
Featured
Climbers:
Ben Hoyt
,
Carlo Traversi
,
Jon Glassberg
,
Jonny Hork
,
Jordan Shipman
,
Juan Pablo Caballero
,
Kara Caputo
,
Mateo Cardenas
,
Nic Sherman
Areas:
Colombia