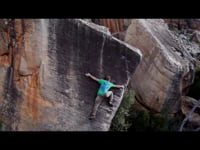 [vimeo http://vimeo.com/47365286 w=980&h=551]
| Video Source | ClimbingNarc Video Page
Last try best try !
For my last weekly update the crew has been on fire, putting up amazing new problems and repeating hard beautiful lines.
Sorry for the long wait and the low quality, but internet has been horrible with me lately. I'll replace it with full HD as soon as I arrive home.

This video features :
-Royksopp, 8A Flash
-Gliding through waves like dolphin, 8A first go
-Black Shadows, 8A+
-Brown Shadow 8A
-The flying Burito Brothers, 8B FA
-Peahi, 8A+ FA
-Oliphants Dawn, 8B+ first repeat

Stay tuned for more adventures soon !
Related Videos
Posted In:
Bouldering
Tags:
Featured
Climbers:
Daniel Woods
,
Dave Graham
,
Jesse Bonin
,
Nalle Hukkataival
Areas:
Rocklands