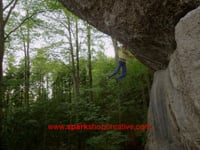 [vimeo http://vimeo.com/101434817 w=980&h=551]
| Video Source | ClimbingNarc Video Page
www.sparkshopcreative.com

"Work harder and smarter."

We're proud to bring you our best work from the past year in one neat little package. From BASE Jumping and rock climbing to solar panels and running shoes, our team has been fortunate enough to work with some of the worlds top companies in exotic locations with the best equipment. Check us out at www.sparkshopcreative.com.
Related Videos
Posted In:
Bouldering
Tags:
Sparkshop
Climbers:
Alex Megos
,
Alex Puccio
,
Daniel Woods
,
Dmitry Sharafutdinov
,
Jimmy Webb