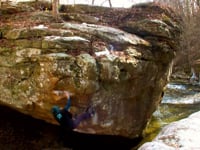 [vimeo http://vimeo.com/20667283 w=980&h=551]
| Video Source | ClimbingNarc Video Page
For me, this one has everything that makes a boulder problem classic. Great moves, interesting holds, and a nice topout onto a huge waterside boulder. They don't get much better, in my opinion.

Laurel Snow Pocket Wilderness, Dayton, Tennessee.

Music from the upcoming Odub album "To Mock A Killingbird". Available Summer 2011 at www.odubmusic.com.
Related Videos
Posted In:
Bouldering
Climbers:
Kris Hampton
Areas:
Laurel Snow