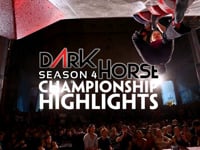 [vimeo http://vimeo.com/57884070 w=980&h=551]
| Video Source | ClimbingNarc Video Page
Metro Rock presents the 4th season of the Dark Horse Bouldering Series. This year, with a 4th competition added to the series, Boston was in for non-stop competition action from October to January. The championship round went down on January 19th in front of a huge crowd. Climbers showed up from around the country to compete in what is quickly becoming the largest competition series in North America.

Results:
1st Isabelle Faus and Daniel Woods
2nd Angie Payne and Nick Picarella
3rd Meagan Martin and Paul Robinson
4th Chelsea Rude and Carlo Traversi
5th Annalisa Flynn and Jimmy Webb
6th Katie Lamb and Vasya Vorotnikov
7th Kasia Pietras and Michael O'Rourke
8th Galina Parfenov and Josh Levin
9th Zoe Liebovitch and Sebastien Lazure

Produced by Louder Than Eleven (www.lt11.com)
Special Thanks to: Sam DeBenedictis (Camera Support)

Music by Amtrac (www.soundcloud.com/amtrac)
"Control" and "Work The Gun"
Related Videos
Posted In:
Bouldering
,
Dark Horse Series
Tags:
Featured
,
Louder Than 11
Climbers:
Angie Payne
,
Annalisa Flynn
,
Carlo Traversi
,
Chelsea Rude
,
Daniel Woods
,
Galina Parfenov
,
Isabelle Faus
,
Jimmy Webb
,
Josh Levin
,
Kasia Pietras
,
Meagan Martin
,
Michael O'Rourke
,
Molly Gaynor
,
Nick Picarella
,
Paul Robinson
,
Sebastien Lazure
,
Vasya Vorotnikov