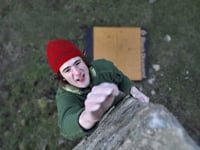 [vimeo http://vimeo.com/56865046 w=980&h=551]
| Video Source | ClimbingNarc Video Page
2013 New Year´s video by Adam Ondra, introducing the new web-page: www.change-movie.com.
This web-page is dedicated to the upcoming movie about Adam Ondra and his long 2012 summer and autumn trip to Norway, where he climbed the hardest route in the world - Change 9b+.

For all details about the movie and project, please visit: www.change-movie.com

This video was shot on January 1st in one abandoned place at the border of the Czech Republic and Poland.
Related Videos
Posted In:
Bouldering
Climbers:
Adam Ondra