After a whirlwind evening that saw 20 competitors test themselves on their respective finals routes, Charlotte Durif and Daniel Woods emerged victorious at 2013 SCS Nationals.
For the women, visiting French climber Charlotte Durif showed emphatically that she is one of the best female climbers in the world as she fluidly moved up the women's finals route for its only onsight.  Delaney Miller took National Champion honors by virtue of a truly impressive 2nd place performance that saw her fall one move from the finish.  Rounding out the top three was Chelsea Rude who also made it near the end of the route before spitting off.  Last year's defending champion, Sasha DiGiulian, never seemed in top form the entire weekend and finished in 9th position.
On the men's side, Daniel Woods recovered from an uneven qualifying round to nearly top out the men's route and claim the crown of National Champion.  Woods becomes the first person to be ABS and SCS National Champion in the same year so a huge congrats to him.  In 2nd was Carlo Traversi who backed up his strong qualifying performance with a solid performance in finals.  Rounding out the podium for the men was the young darkhorse Noah Ridge who I expect you'll be seeing for many years to come in events like this.  Last year's champion, Vasya Vorotnikov, finished in 5th.
Men's Final Results
Women's Final Results

Daniel Woods
Carlo Traversi
Noah Ridge
Jon Cardwell
Vasya Vorotnikov
Elan Jonas Mcrae*
Rob D'Anastasio
Alex Fritz
Josh Levin

Charlotte Durif*
Delaney Miller**
Chelsea Rude
Chauncey Carroll
Tiffany Hensley
Kyra Condie
Cicada Jenerik
Meagan Martin
Sasha DiGiulian**
Angela Payne
Nina Williams

*Foreign National
**Continental Champion
2013 SCS Women's  Lead Podium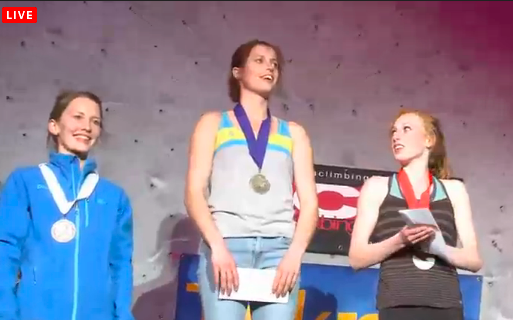 2013 SCS Male Lead Podium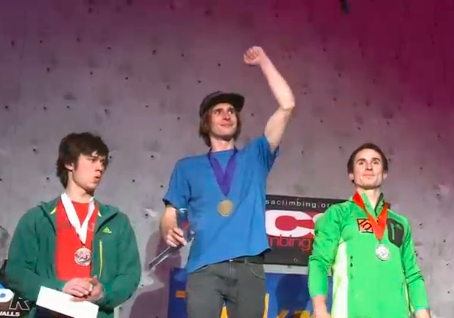 2013 SCS Male Speed Podium – National Champion is Josh Levin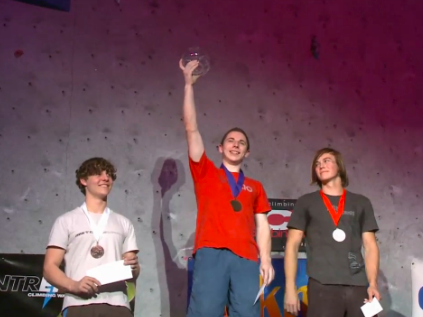 2013 SCS Women's Speed Podium – National Champion is Kyra Condie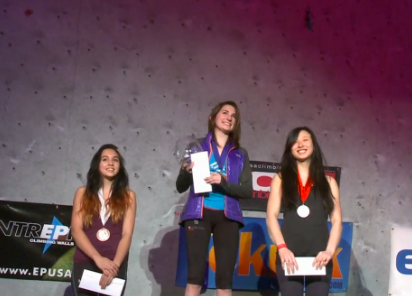 Thanks again to everyone who helped put on the live broadcast as well as everyone who tuned in.  I'd be lying if I said I wasn't more comfortable behind a keyboard, but working on these broadcasts has been a really great experience for me so thanks to everyone for their support.  Until next time…