Though it might seem like every year is like this for me when it comes to climbing, 2008 was a difficult year for me physically. The first six months of the year were wiped out by hand surgeries and related recovery, which left me extremely motivated to make the most of what remained of the year.
I slowly got back into things over the summer before really focusing my efforts in October and November of that year into working my way through some of the more difficult lines at the local bouldering spot.  This was one of the few times in my climbing career that I've focused on climbing a specific route or boulder problem for more than one day, and my efforts were rewarded when I sent my most difficult problem up to that point.  After months of not being able to climb and wondering if I would ever reclaim my previous form, it was extremely gratifying to come back and be climbing even better shortly after all seemed hopeless.
Unfortunately, 2012 has been somewhat similar to the struggles of 2008. The year started well enough with a few successful trips to the Red River Gorge, but it went downhill in April when I tore a tendon in my ankle literally just pressing down on a foothold. My motivation for climbing disappeared in the intervening months as I recovered from surgery, and I would not walk or climb like a normal person until September.
My souvenir from the spring 2012 season.  Fun times…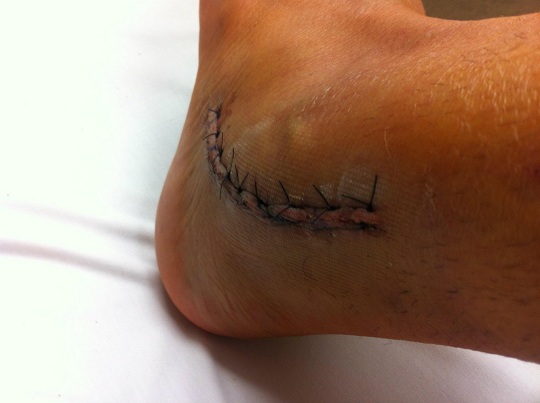 Once I was able to start climbing again without a boot I realized that I did, in fact, still like climbing quite a lot, and I once again set about regaining my previous form. With winter looming, I didn't really have any specific goals in mind but I did manage to make a trip to Colorado for some rehab bouldering before dedicating the past five weekends to sport climbing in the Red River Gorge.
Rehabbing in Boulder Canyon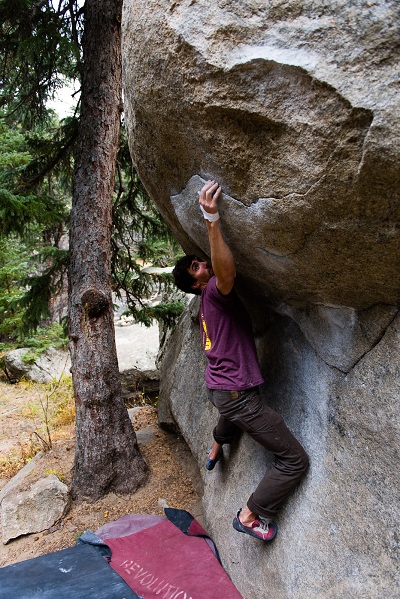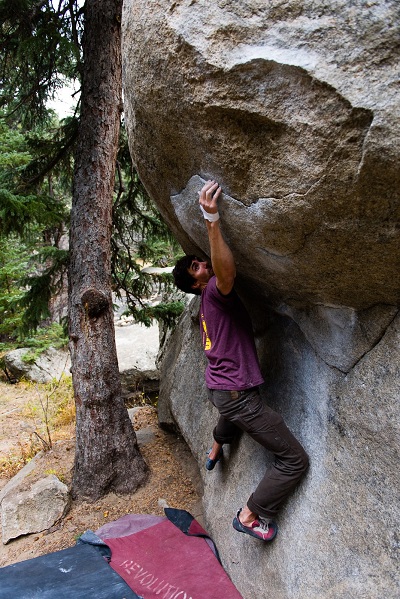 My main motivation for the trips to Kentucky was to enjoy climbing, hang out with friends, work on onsighting some stuff and see if I couldn't get some fitness back.  This went well enough as long as you ignore the frustratingly high number of "Second go" comments on my scorecard, but as I entered last weekend having 1-hung a handful of "hard for me" routes I realized that I wanted to feel that sense of accomplishment I felt back in 2008 when I climbed something hard for me not long after getting back into climbing.  I was looking for some sort of crowning achievement on my comeback tour if you will.  I went into the weekend squarely focused on climbing at least one of the short term projects I had been working on.
Did it work out?
In a word: no.  To help keep this from derailing into a full on bad beat story about how if X or Y would have been different I would have totally sent, I'll instead just keep it brief by saying that I did not succeed on any of the hard routes I was hoping to do despite trying one of them four times over the course of the weekend1.
So, despite having to suck on the bitter pill of defeat my efforts were not for naught as I found that I learned several things along the way:
I should have spent the three months I couldn't walk actually doing something and not just sitting in the basement having Lord of the Rings extended edition marathons.
I need to get a lot better at sport climbing.  I need to get stronger to be sure, but I think much of my issue is one of tactics and strategy as opposed to a glaring physical weakness.  It wasn't a coincidence that I kept consistently falling on the last boulder problem guarding the chains on my main project2, a sequence I had not spent much time figuring out or rehearsing on previous burns.  I also tried the route in question two times a day over three separate days and on each day my first go was noticeably worse.  Using that go as a warm-up/beta burn would have been much more productive than trying to go for the redpoint right away.
Driving 500+ miles each way for a weekend of climbing is not conducive to having a productive trip, at least for me.  Driving all afternoon/night on Friday and then climbing all day Saturday works well enough, but the abbreviated Sunday session with a 7-8 hour drive and work on Monday looming does not give one much time to rest between goes.
I don't subscribe to the en vogue idea that all grades in the RRG are soft3, but after climbing a handful of routes in the .11c-.12b range that all felt similar I'm more confused than ever about what feels like what grade.
Five consecutive weekends of climbing at the Red is not the cure for my inability to recover while resting on a jug.
It's possible to spend ~$100 on food at Miguel's in a month and not get tired of it.
I am capable of climbing much harder routes in the RRG than I previously gave myself credit for.  Endurance climbing will never be my strong suit, but I think I can pull hard enough between the rests to climb well into the 5.13 grade.
With these thoughts in mind, I'm pretty psyched to get stronger this winter and to think about different methods for dealing with the mental and logistical hurdles that left me ultimately feeling disappointed with how this fall climbing season went down.
On to the next…