A couple of interesting media projects for you to feast your eyes on this morning.
The first is the latest catalog from Black Diamond.  Normally I wouldn't be sharing a link to a company's catalog, but Black Diamond has very cleverly sprinkled beautiful images and some heretofore unseen videos featuring the likes of Barbara Zangerl, Nalle Hukkataival, Adam Ondra and others.  Well played, Black Diamond.  Check it out here.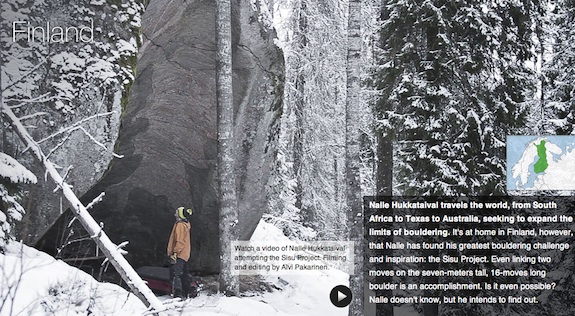 The second is the long-awaited debut of the Island website that was the brainchild of Dave Graham.  Here's how he describes the project on its homepage:
The chance to directly connect with like minded individuals gives us an enormous outlet, a chance to create opportunities, to bridge greater gaps. We are doing this for our community, which includes ourselves. We hope to connect and relate lives, individually and communally, to become a movement, a force of energy, an embodiment of all the passion on our planet, in one place. Welcome to the Island.
The site's initial public incarnation is basically a photo dump for a select group of contributors.  Where it goes from here is anyone's guess, although I suspect it will need to evolve into something more if it is to really take off.  Check it out for yourself here.