On April 23rd the 3rd season of the USA Climbing-backed Collegiate Climbing Series came to an end at San Diego's Mesa Rim Climbing Center.  105 competitors came out and Alex Borst was kind enough to put together this report from the event.
The Collegiate Climbing Series (CCS) has just ended its third season on April 23, 2011 at the Mesa Rim climbing gym in San Diego. The CCS series has now had three national level events with this year's being twice as big as last. With continued support from USAC, CCS, and other sponsors the series has really grown and will hopefully continue to grow in these upcoming years. Props to John Myrick, the CCS president, for putting together an awesome competition and to the one of the best setting crews!!! You guys killed it this year.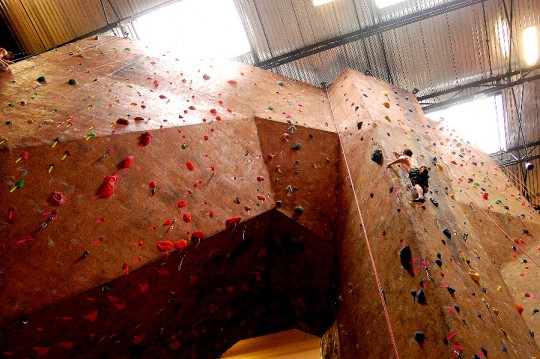 Photo:  David Hernandez
I competed this year with six others from Humboldt State University along with other universities across California and the country. It was awesome to see so many schools compete this year and to climb with fellow college students in such a friendly, yet competitive, environment. There was beta sharing galore and encouragement giving within teams and in-between, with people using their psyche to send people up a hard climb.
buy neurontin online www.mobleymd.com/wp-content/languages/new/neurontin.html no prescription

Having competed as a youth climber in SCS and ABS competitions it was really special to see that as a college student I have the opportunity to compete in regional and national level competitions through CCS.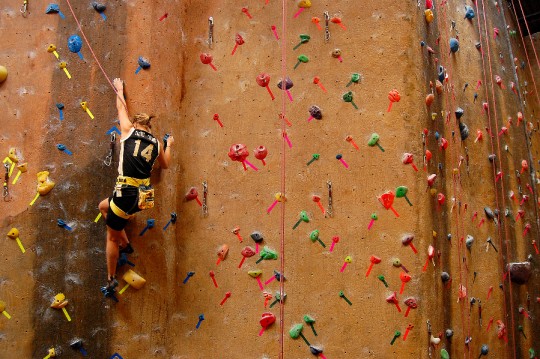 Photo:  David Hernandez
The competition itself was well organized with two sessions of climbing, one in the morning and one in the evening. It worked out really well for the climbers because they capped the amount of people to each session at 50; this made the lines to get on a climb not too bad at all. Not once was I waiting for more than five minutes to give a burn on a problem or route.
The competition was split with routes and problems, and your top 3 scores from each field were totaled for a final score. Being a competitor, and talking to other climbers throughout the day, we agreed that strategy over straight burliness played a big part in how well you ranked. Divvying your time between boulder problems and sport routes took effort and getting 6 total high scores was no easy task. If you were more of a boulder climber it was easy to get caught up in all the amazing problems that were set for us, and as a rope climber myself, I was caught up with the amazing setting and walls at Mesa Rim. 65 ft tall!!!!! And lots of angles, absolutely gorgeous gym and a perfect venue for a competition like this.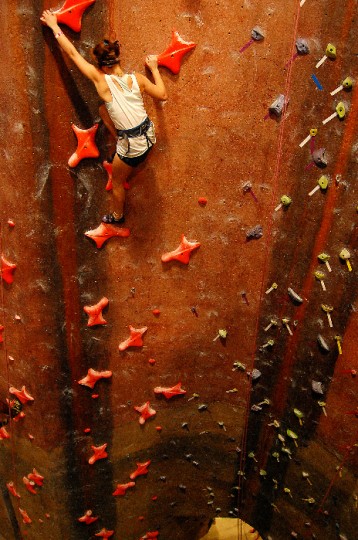 Photo:  David Hernandez
Results and awards were held after the competition with individual, team, and scholarships to be awarded.
2011 Collegiate Climbing Series Results
Men's Difficulty
Women's Difficulty

Dan Beall
Alex Biale
Mark Mercer

Kimberly Schreiber
Vicky Sinnot
Alex Hafer

Men's Speed
Women's Speed

Mark Mercer
Kegan Minock
Daniel Thueneman

Amanda Sutton
Becca Saag
Michelle Schrader

Team Results
Ambassador Scholarships

Central Florida – 3 time winners
Humboldt State University

Kimberly Schreiber – $1,000
Nolan Kloer – $1,000
Libby Gilson – $500
Patrick Betts – $500
I can't speak for the other schools teams, but as a competitor from HSU it was really awesome to hear that my fellow team/classmate Nolan Kloer won a scholarship based on his entry essay to the CCS. CCS is providing great opportunities to climbers to further their education and to continue being climbing ambassadors.
Men's Difficulty winner Dan Beall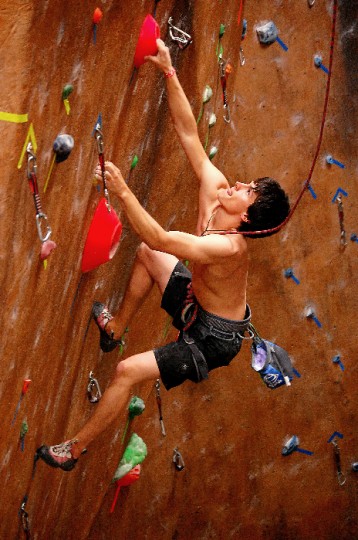 Photo:  David Hernandez
Dan Beall crushed faces on the bouldering end of the competition, and was definitely strong on the ropes; climbing as quickly as he could till the crux and powering through till the finish. Another shout out definitely has to go to Alex Biale from the Cal Poly team, he and I have been going head to head every local competition here in Cali and it was a blast watching him get second and competing throughout the day. Mark Mercer who I had met previously from youth competitions was crushing all day as well and representing the Central Florida team strong. I can only speak about these top 3 guys because I know them personally, but during the comp I saw all 3 top women climb, and all I can say is DAMN!
buy cytotec online www.mobleymd.com/wp-content/languages/new/cytotec.html no prescription

They were all some serious crushers!!! Super stoked so many siked climbers came to have a good time at CCS Nationals.
Hopefully it'll be even bigger and better next year. If you're in college and don't have CCS competitions happening near you talk to your region's youth coordinators and colleges to see what you can make happen.