This fall the Reel Rock Film Tour will be back with their 6th installment, and like last year there will be no main event movie so to speak but rather a collection of shorter clips:
Sender Films and Big UP Productions are at it again, with a mind-blowing, palm-sweating pump-fest of climbing flicks for the 6th annual REEL ROCK Film Tour. We've gathered the wildest climbing stories from around the globe: The legendary race for the Nose speed record; The queen of the off-width cracks; A nine year old bouldering prodigy; Tommy Caldwell's efforts on the hardest big wall free climb; A crazed high-lining champion; And the most insane ice climbing action ever. It's all part of the cinematic tour de force that is REEL ROCK VI.
And in keeping with the past few years there will once again be a filmmaking contest.  This is your chance to have your best 2 minute video seen by thousands of people around the world and to win a load of money and schwag.  Entries are due by July 15th and full details can be found by clicking here.
2011 REEL ROCK Filmmaking Competition is on!

The REEL ROCK Film Tour is excited to announce the 2011 REEL ROCK Filmmaking competition. Enter your 2-min climbing-related film by JULY 15th, 2011, and you could win $500 and an AWESOME gear package from The North Face, Windstopper, Petzl, Evolv, Climbing Magazine, Urban Climber, GOAL Zero, Sterling Rope, and Clif Bar. If selected, your film will be featured in the 2011 REEL ROCK Film Tour and seen by over 60,000 fans on screens around the world! For rules and information go to www.reelrocktour.com.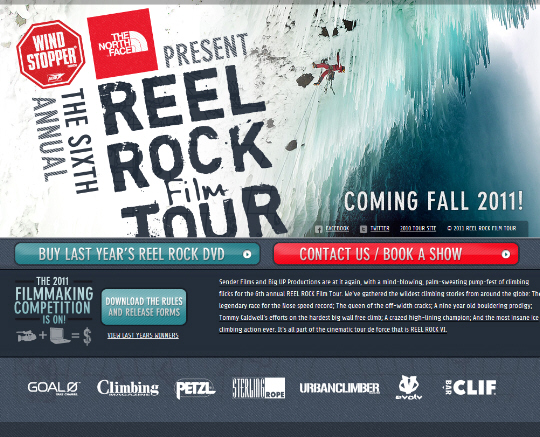 In related news, congrats to Sender Films for being nominated for a 2010 Sports Emmy for "Oustanding Camera Work" on the First Ascent Series.