Despite my occasional gentle ribbing of the site's "eccentric" owner I've been a fan of 8a.nu since it started over 10 years ago.  The ability to track my climbs and somewhat voyeuristically follow the sends of friends and strangers from around the world is something I've really enjoyed over the years.  That said, I don't think there is any debate that the design and functionality of 8a.nu is badly outdated.
Other websites like MountainProject, Rockclimbing.com and more recently 27Crags have implemented a sort of "log book" feature to allow users to track their climbs.  However none have really caught on here in the U.S. when compared to the popularity of 8a.nu.  As they like to frequently boast, 8a.nu has almost 35,000 members and nearly 1,700,000 registered ascents (not to mention the world record levels of traffic they enjoy).  This all begs the question in my mind if it is even possible for a site to catch on in the log book space given the head start that 8a.nu enjoys.
One site that is hoping to test that question, or at least carve out a niche of their own, is Sendage.  Sendage is sort of what you would imagine 8a.nu looking like if it had been designed any time this century for the Web 2.0 world.  Using a slick, responsive interface, Sendage allows you to create "sendlists" to use for setting goals and lets you track all the resulting "sendage" as well.  To help you get started you can even import your 8a.nu scorecard right into Sendage.
Here's how site creator Jamie Chong describes his vision for Sendage on his blog:
The most significant use for sendage.com is to create a ticklist of climbs. Lists are great for everything. When you tick something off a list, there's a sense of accomplishment.
buy zydena online https://buynoprescriptiononlinerxx.net/dir/zydena.html no prescription

It's satisfying. So why not make a list just so you can tick it off and be rewarded with good feelings. Think about how often you do this when you climb. A list is pretty much mandatory on a road trip.
buy amitriptyline online https://buynoprescriptiononlinerxx.net/dir/amitriptyline.html no prescription

Whenever you travel to a climbing destination it's likely you're prepared with at least a handful of climbs that you want to try. The excitement and anticipation of a long awaited climbing vacation can easily be built up through a simple list of 5-star climbs that everybody says you should do.

When there's sendage, there's everything that happens afterward. There are friends who want to congratulate you; there are others who want to know your beta; there are people back home who want to know if you just sent your dream project; some want to know how good the climb is; and some just want to talk to you about the experience. Friends get friends psyched on climbing and most definitely after a send there's a lot of psych going around. Spirits are high and everyone wants to share the good vibes. Let's face it, even though climbing is a very individual and self centered sport, there is no doubt that climbing is also very much social. People thrive on others' success. So when you send, you've not only accomplished something great, but you've provided motivation for someone else to do the same.
The site relies heavily on Facebook integration, using your Facebook account as your Sendage login and allowing you to share your sends and comments straight to Facebook if you so desire.  The site is still in development so other features, like badges for certain achievements, are forthcoming.
Sendage is running a few promotions for free schwag from Arc'teryx and La Sportiva as a way of enticing new users to give it a try.  Since you can import your 8a.nu scorecard right into Sendage why not give it a shot??
Sendage homepage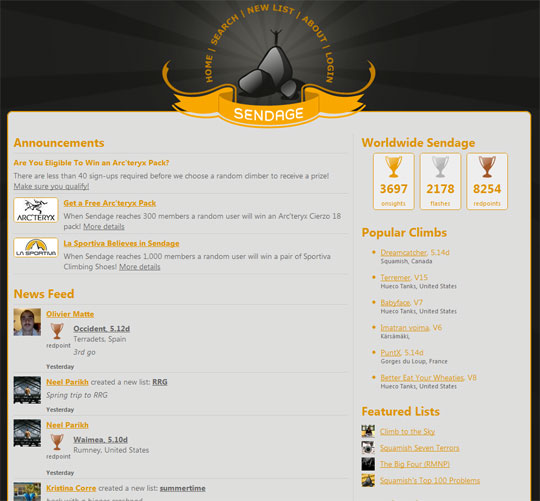 Sendage profile page