Last week I made the journey out to Salt Lake City to take in the sights and sounds of my first Outdoor Retailer Trade Show.  Some people go there to learn about the new gear, others go to get deals done, but my main focus was on one thing:  the people.
This site is almost 4 years old now and one of the reasons I keep doing it is the various connections I've been able to make with people over the years.  It's been amazing to come in contact with so many psyched people, whether it's readers, companies or the occasional professional climber.  The only problem is that these contacts are almost always of the online variety which is what made meeting so many people in person at the trade show a real treat.
One thing I particularly enjoyed was running into a few of the professional climbers roaming the floor.  As a "fan", it was cool to be able to talk shop for a few minutes with the likes of Sonnie Trotter, Joe Kinder, Jonathan Siegrist and a handful of others.  Thanks to them for not thinking I'm some sort of stalker the positive feedback, it means a lot.
I wasn't completely oblivious to the gear though as it's kind of hard to ignore the rows and rows of booths filled with shiny new stuff.  Petzl had their new Gri-Gri 2 on display which is sure to be a hit, and I'm excited to get the chance to try out their Ange quickdraws.  On the shoe front perhaps the most interesting thing I saw was Five Ten's so-called "Mi6" rubber which was specially designed for Tom Cruise's latest Mission Impossible movie.  This stuff is sticky.  Too bad it doesn't appear to have any applications for actual rock climbing…yet.
Here are a few more wrap-ups from the show:
And here are a few pictures I snapped the one day I brought my camera:
A few new goodies coming soon from 5.10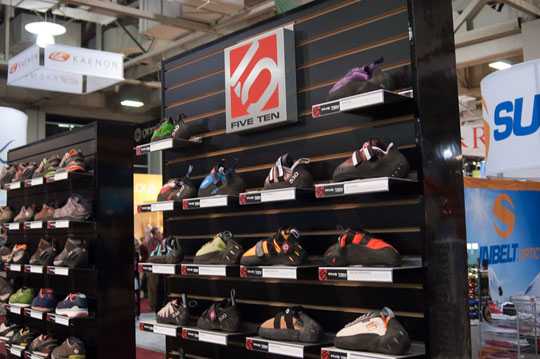 Gri-Gri 2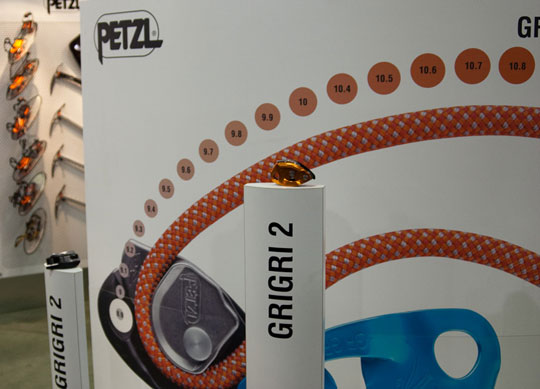 The Dean Potter/Chris Sharma poster signing with 1 of them noticeably absent.  I'll let you guess which…