Paul Robinson has moved on from his time in Swizterland to Fontainebleau, France for his first real taste of the sandstone bouldering mecca.  After waiting out some bad weather he got right to work with quick sends of a few variations on the Fata Morgana boulder at Coquibus West.  Notable sends include Fata Morgana (V11) and Satan I Helvete (V13) along with their respective low starts (not to be confused with the "assis" or sit starts) which weigh in around V12 and V14.  Here's a topo of the boulder that is somewhat helpful in understanding how all these problems work: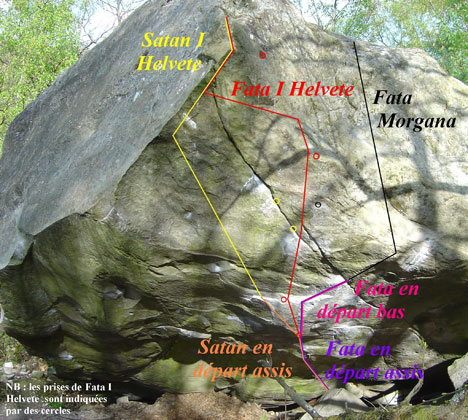 Photo:  Sébastien Frigault/Bleau.info
In addition, one can learn from reading Robinson's scorecard the he's also made quick work of Elephunk (V13) and Gecko (V12), "punting" off the topout when attempting the V14 sit start version of the latter problem.  So far so good I'd have to say for Robinson's trip to Font.
And since we're talking about Font, here are a few Ty Landman videos from back in the day*:
*less than 2 years ago