Last month Tommy Caldwell and Kevin Jorgeson's push to free their Dawn Wall project on El Capitan captivated the climbing world as thousands followed along via Twitter, Facebook and blogs like the one you're reading right now.  Unfortunately the pair had to abandon their push for the season after a snow storm swept through Yosemite, but not before they made serious progress on the route.
I was able to catch up with Jorgeson to get some of his thoughts after the first big wall push of his life.  Here's what he had to say:
How did the pre-push season go for you guys?  Were you able to get as much work done as you had hoped?
The weather leading up to our push was, for the most part, great. There were only a few minor storms and as always, we battle with the heat of the wall. So, we literally became nocturnal for two months! I don't think we will ever feel as prepared as we want to be. We would  have liked to spend more time on the traverse pitches, but when it came down to it, we had to either go for it or not.
buy cipro online https://noprescriptionbuyonlinerxx.net/dir/cipro.html no prescription

How many of the pitches on the route had you never climbed free before leaving the ground for the push?
Before leaving the ground, Tommy and I had redpointed pitches 1, 2, 4, 5 and 6. So basically, all the hard pitches had yet to be redpointed before going for our ground up push. This was super exciting on the go, because each successful pitch was a fresh, high-end, trad first ascent on El Cap!
Dawn Wall Project topo – Click to enlarge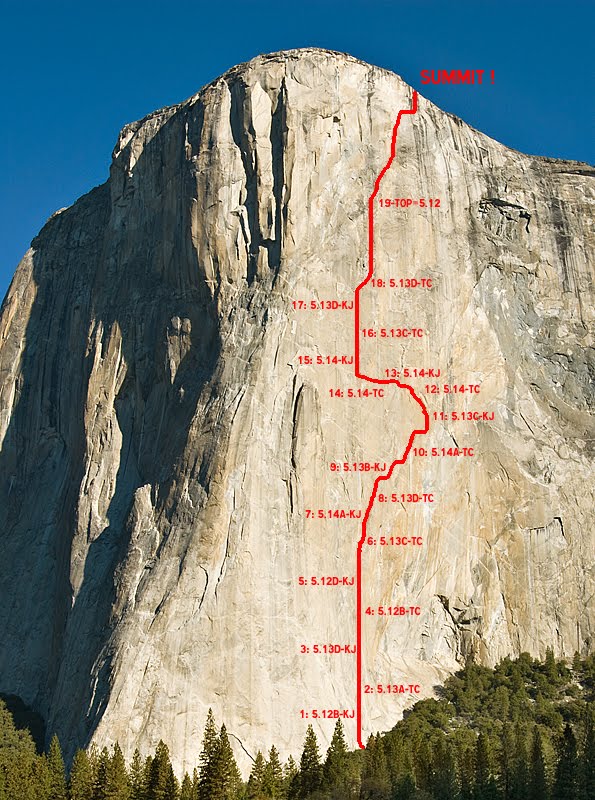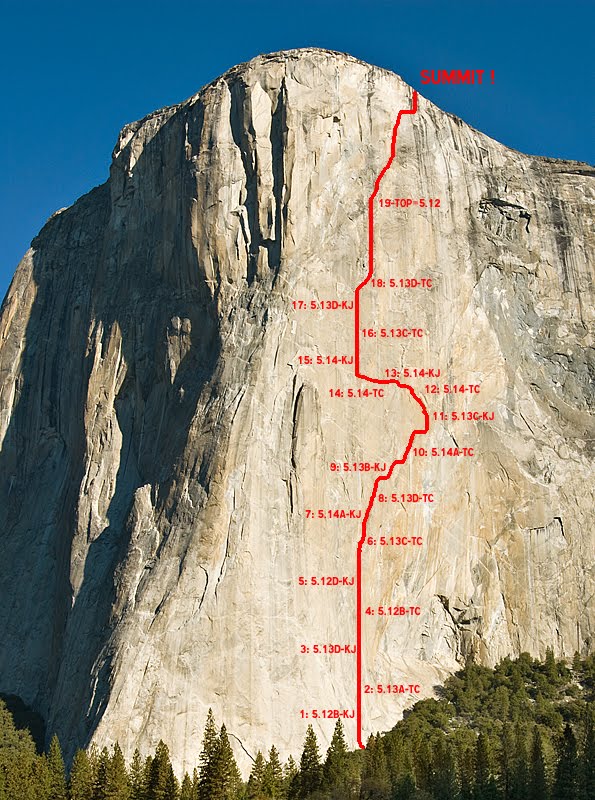 How were you guys feeling physically after the first few days where you really pushed hard to get as many pitches done as possible?  Were you able to keep reasonably fresh?
I was feeling pretty worked after day 1, as I took four falls that day. These really add up when you fall at the end of a pitch and have to re-climb it. But, having to wait until the end of the day really helps you recover. After that first day, I feel like we were able to keep a good level of energy and fitness day-to-day. We would really make each attempt count.
Was it hard from a mental standpoint at all to have to spend most of the day waiting for the conditions to get good enough for climbing?
Absolutely. We would constantly distract ourselves (even at the belays, tied in and ready to go) with you tube videos and random web surfing. This kept our minds off of how nervous we were for each pitch. There was definitely a lot of time to think up there…
This was your first big push to free a wall like this.
buy flexeril online https://noprescriptionbuyonlinerxx.net/dir/flexeril.html no prescription

 Was there anything that surprised you about how difficult the process was?
The most difficult part of this push was the pressure. Every pitch is crucial. Nothing can be taken for granted. Even if it's a pitch you've done before, it feels totally different when the pressure is on. The nervousness associated with this push is something that Tommy and I were both dealing with. I look forward to our next attempt when we can approach it with a bit more confidence, knowing we can free up to the traverse without TOO much trouble.
Talk about how things were on the wall Friday (the day the storm came) and how difficult a decision it was to abandon the push because of the storm.
Of course we wanted to succeed, so it was a difficult decision to throw in the towel. At the same time, we had facts to face. Under the best conditions, we were not as prepared/strong as we wanted to be for the traverse pitches. Under the worst conditions, which were coming, we would be facing a week of sitting in the portaledge and several days of dangerous ice fall. After this, the wall would be wet for an unknown amount of time until all the snow melted off the top. So, given that we had to wrapped up by the end of the month, we realized and decided that the best thing to do was be safe and save it.
What's the most important thing you'll take away from this fall's experience that will be most helpful when you return to the route next year?
Confidence. We went into this push not knowing a lot. We learned a TON by going on this push. We learned how best to break up the days, the perfect sequences for the cruxes, what it feels like to climb 6 days in a row on really hard pitches, that we can get up to the traverse pitches (13 and 14) with energy to spare and most of all, we learned even more how much we are in love with this project. I can't wait to return.
And I can't wait to follow along.  Thanks to Kevin for the interview and best of luck to him and Tommy when they return to the route next year!  For more from Caldwell's perspective check out his season ending blog entry.