National Geographic is now accepting votes for their People's Choice Adventurer of the Year award.  What does this have to do with rock climbing you might ask?  Well, none other than Alex Honnold is nominated and you can vote for him until January 15th of next year.
While adventurous might not be the first word you'd think of when you think of Honnold's exploits on the rocks it certainly isn't a bad way to describe someone who has free soloed Zion's Moonlight Buttress, free soloed Half Dome, soloed El Cap and Half Dome in half a day, and done countless other things that most of us would never even consider doing.
The North Face Promo video featuring Alex Honnold

One of the more truly adventurous things that Honnold has probably ever done would be his recent The North Face sponsored expedition to the central African nation of Chad.  Along with James Pearson, Mark Synnott and the Camp 4 Collective team of Jimmy Chin, Renan Ozturk and Tim Kemple, Honnold spent 3 weeks exploring vast expanses of desert in search of climbable rock.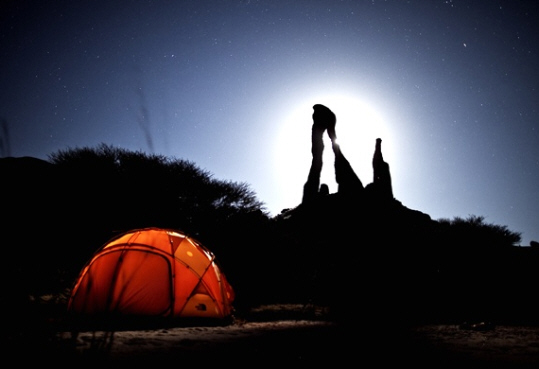 Photo:  Renan Ozturk on Twitter
As the trip progressed the team filed a few dispatches from the field with amazing photos which are well worth checking out:
With terabytes of media captured during the trip and the talented Camp 4 Collective group on the case expect to see a lot more about this trip in the coming months.