Tommy Caldwell and Kevin Jorgeson's push to free a new line on El Capitan's Dawn Wall is 6 days old now.  When we last checked in with the duo on Tuesday morning they had finished Pitch 9 which put them in position to begin work on the route's most difficult pitches, pitches that would take them across the Molar Traverse, up the infamous "dyno pitch" and, hopefully, to the top of the wall.  On Tuesday they both managed to send Pitch 10 (5.14) and Pitch 11 (5.13+), and Caldwell successfully sent Pitch 12 (5.14) on his 5th try of the day late Wednesday night before taking a proper rest day yesterday.
It's worth mentioning that despite the fact that Caldwell and Jorgeson have spent many days working these pitches individually in preparation for the ground up push, most of the hard ones had yet to be freed.  This means that each day they are doing difficult trad first ascents one after the other.
Caldwell and Jorgeson hanging out on El Cap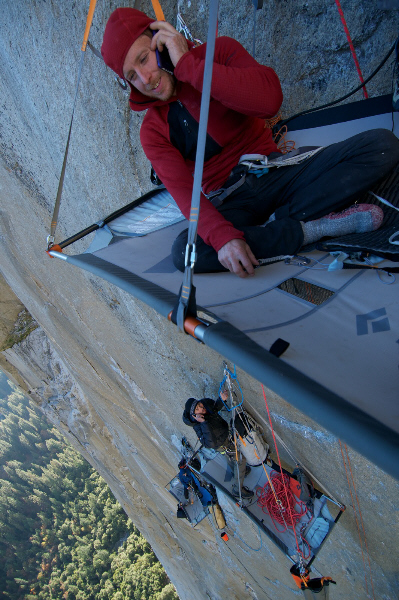 Despite the meticulous months of preparation, Caldwell and Jorgeson's push is facing a threat from something no amount of planning can control:  the weather.  Starting tonight a serious winter storm is supposed to move into the Yosemite area with the potential to dump large amounts of snow, threatening the team's ability to remain on the wall and finish their push this season.  The latest update from the Big Up Facebook page is that they're going to try to wait it out from their camp atop Pitch 8 so we'll just have to wait and see.
And since it's Friday, here a few older videos related to this Dawn Wall Project.  The first features Tommy Caldwell talking about the project in the spring of 2009 and the other two show some of the actual climbing.
[youtube=http://www.youtube.com/watch?v=A1wj1-X80F4]
Update: Latest update from the wall posted around 10 am PST:
Tommy sent pitch 12 the other night. I'm headed up now for round 2 on pitch 12 and Tommy is going for pitch 13.