Two new guidebooks to tell you about today, one covering top ropes and sport climbs in Yosemite and the other the bouldering at Tennessee's Stone Fort AKA Little Rock City.
Yosemite Sport Climbs And Top Ropes is one of the latest editions to the ever-expanding collection of guidebooks offered by SuperTopo.  While clipping bolts or running up top ropes might not be the first thing one thinks of when they plan a trip to the Valley, YSCATR seeks to dispel the notion that all there is to do in the Valley is plug gear:
I think you'll be pleasantly surprised at just how many routes can be safely climbed without extensive trad knowledge, a huge rack, and off-width skills.  Sport climbing and top roping in Yosemite is unlike its archetypal trad bretheren, often a casual outing on the rock, dancing you way up granite faces.
If you've used other SuperTopo offerings in the past then YSCATR will be very familiar.  Its 120 pages feature plenty of Yosemite beta, color photos and ample topos to help you navigate roughly 200 routes from 5.1 to 5.12a.  The print version runs $19.95 or you can download a PDF version that comes with 3 years of updates for $17.95.  Click the picture below for more info.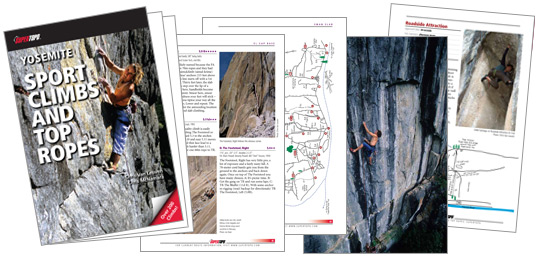 The other guidebook I had a chance to take a look at is the long-awaited guide to bouldering at Tennessee's Stone Fort.  Long known as Little Rock City, the Stone Fort is another one of the South's amazing sandstone bouldering destinations.
The guide was put together by Andy Wellman & Greener Grass Publishing, the same people who put together the quality guide to HP40 last year.  Much like the HP40 guide, the Stone Fort guide is chock full of high quality color pictures,historical essays, topos and problem descriptions.  After stumbling around the boulderfields of the Stone Fort back in 2006 with little clue of what/where everything was, I have to say this book was long overdue but well worth the wait.  If there was one negative about the book it might be that there are almost too many variations listed.  How will I ever find the time to drive 10 hours to finish all those different lines!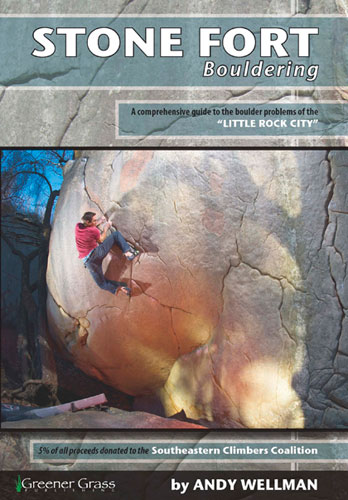 The guide won't ship until early October, but there is a pre-sale going on right now where you can save about $6 off the $25.95 regular price.  In addition, 5% of sales will be donated to the SCC and $2 from each pre-sale will be donated to help defray the medical bills of southern local Lee Means.  Check out the Stone Fort Bouldering page on Greener Grass' website for more info and sample pages.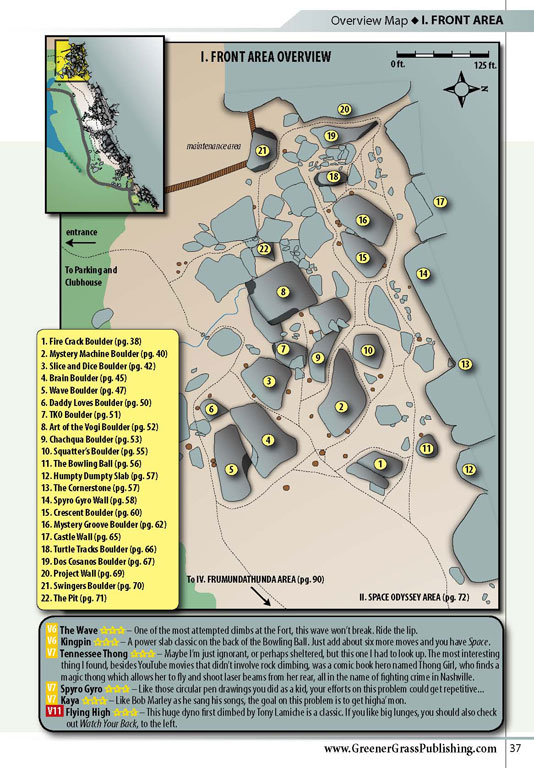 Disclaimer:  Both of these guidebooks were provided to the Narc free of charge