It's Friday.  That means tomorrow is the big UBC Earth Treks Roc Comp which starts streaming online at 2PM EST for semi-finals and 7PM EST for finals.  If I wasn't going to be out attempting to teach a climbing class in the rain tomorrow I would definitely be checking it out.
So, while watching indoor bouldering videos is fun, watching outdoor bouldering videos is even more fun.  Here are a couple of videos of the latter to help get you psyched for whatever it is you're doing (or not doing) this weekend.
The first video is a 30-odd minute compilation put together by Lee Payne that chronicles his 50 day trip to the HP40 of France Fontainebleau, France last year.  The video does a nice job showing problems of all difficulties from the massive 300 problem ticklist Payne compiled during his trip.  A cameo by Chris Schulte on a couple harder lines (including the classic Karma) is thrown in for good measure.  Check out the video here.
Lee Payne in Font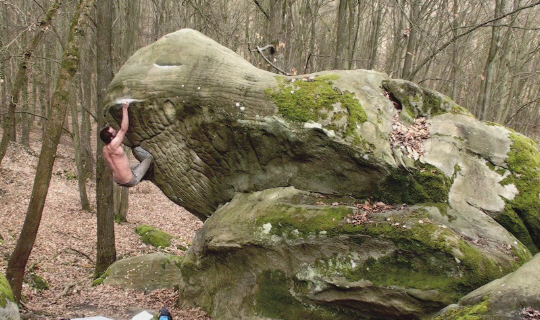 The second video comes from the guys at Louder Than 11 and it follows Jon Glassberg, Nate Draughn and Carlo Traversi as they explore the potential for bouldering at West Virginia's New River Gorge.   As you can see in the video things didn't quite go as the guys had hoped, something Glassberg summed up on his blog like this:
We planned for this video to be feature length, epic, and just plain awesome but we ran into some serious trouble along the way.  This video is about the CURSE that we were faced with on our trip and despite our best efforts, nothing really went as planned. Regardless, Carlo, Nate and I were able to put up some really great first ascents and certainly wont forget the experience.
Check it out:
For a FREE download of extras that didn't make the video check the LT11 store